PLUG: A Battery Pack That Puts Two AC Wall Outlets in Your Camera Bag
After the success of its Portable Power Outlet, ChargeTech is taking portable battery packs to the next level with its latest product. Called PLUG, it's being touted as "the world's most powerful battery pack."

PLUG is a high-capacity battery pack that photographers can use to bring two AC wall outlets with them on the go — the original Portable Power Outlet only had one outlet. Measuring 1.6×5.6×8.6 inches, PLUG is small enough to slip into many camera bags.
In addition to the 2 AC outlets, the body of the PLUG features an on/off switch, 2 USB charging ports, a USB Type C port, an LED display, and LED power indicator lights.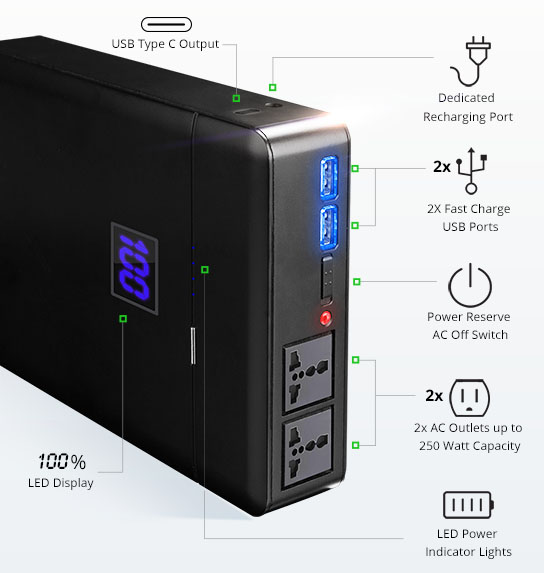 On the power front, PLUG's specs are 250 Watts and 48,000 mAh, so you can power pretty much any gadget for a good amount of time. When fully juiced, PLUG can recharge 2 laptops, 28 phones, or 30 DSLRs. With pass through charging, devices connected to PLUG can be charged at the same time PLUG is getting recharged from the wall.
ChargeTech says that one possible use case for the PLUG is to power your on-location photo shoots with off-camera lighting.
In addition to using a wall outlet, you can also recharge PLUG with dedicated solar panels in 8 hours, allowing you to work off the grid for an extended period of time.
ChargeTech is launching the PLUG through a crowdfunding campaign over on Indiegogo, where they've blown past $600,000 raised with an initial flexible goal of $30,000.
A contribution of $250 (plus shipping) will get you one of the first PLUG units if/when it ships in December 2016. When it launches, PLUG should have a price tag of $349 for PLUG Travel (42000mAh) and $369 for PLUG Pro (48000mAh)