Crazy Surreal Portraits Shot on Active Lava Flows in Hawaii
Photographer and creator of epic scenes Benjamin Von Wong has been quiet for a long time while he has, in his words, "been trying desperately to do the delicate dance of keeping my epic style while also doing good in this world." This surreal lava portrait photo shoot is his return to the game.
Shot on Hawaii's big island with help from lava expert and photographer CJ Kale, an incredible amount of work and an even greater amount of sweat went into capturing these shots.
So, what does it take to capture "epic" portraits on active lava flows without burning your shoes, inhaling poison gas, or melting your skin off in the process? This behind the scenes video gives you an idea:
To hear Von Wong tell it on his blog, there were an abundance of challenges, the first being the sheer unpredictability of these flows. They change constantly, and even with CJ there to guide the way it took three hours and four miles of hiking over jagged volcanic terrain in the middle of the night before they found a location the first night.
That, all while carrying a ton of gear on their backs because Ben is physically incapable of hearing the words "pack light." Seriously, he's reading this and wondering why that last sentence ended with the word "words" and some empty quotation marks.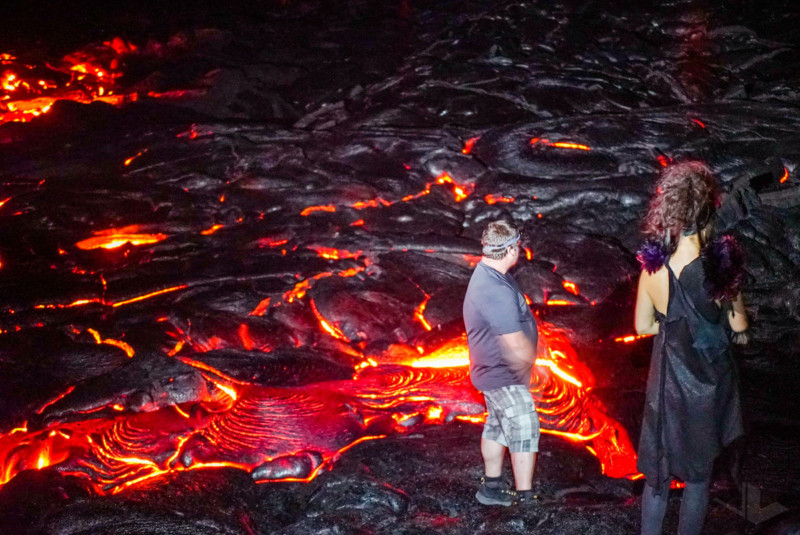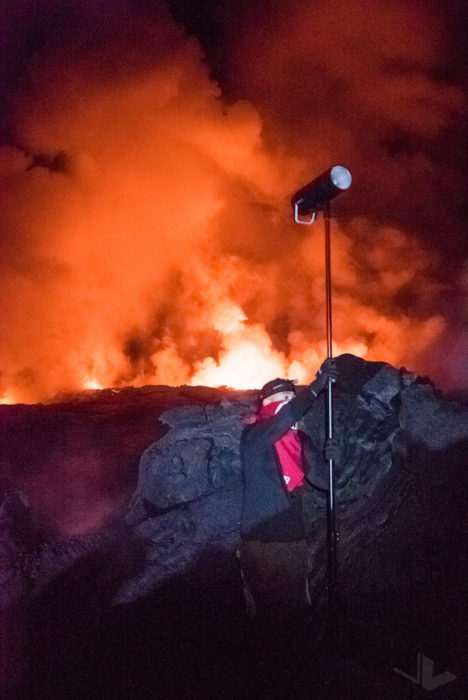 Once they were in place, and with CJ making sure everybody stayed safe, proper lighting became the primary concern.
"Designing the lighting for the shoot was like choreographing a dance," writes Von Wong. "Every time I changed my composition, Tama, one of my intrepid assistants, would have to navigate the fields of lava while juggling a 5kg Siros L and light stand."
That backlight was critical to light up the texture of the hardened lava, and it had to be positioned behind the subject at all times or else it would blow out the shot. If it wasn't used, you got red glow and blackness; used properly, the glowing lava is surrounded by beautiful texture.
Lighting nailed, they began navigating the field, taking shot after shot while covering the model and air in water vapor for both safety and effect, and deploying the occasional smoke bomb.
The final shots are striking, each one distinct from the next, all of them sending the same message. Ben wanted to capture the plight of indigenous communities at risk from climate change, so he made his hero a tribal character facing a desolate landscape.
Take a look at the results yourself:
"My hope was to bring attention to indigenous communities at risk from climate change and to donate 100% of print profits to victims of Hurricane Matthew," explains Ben. "For this project, we've chosen to support the St. Boniface Haiti Foundation."
And so the delicate dance between epic photography and doing good continues.
To find out more about this photo shoot, head over to Ben's behind the scenes blog post. And if you'd like to buy a print and support the victims of Hurricane Matthew in Haiti, you can do that here.
---
Image credits: All photos by Benjamin Von Wong and used with permission.