These Bridal Party Photos Feature Adoptable Puppies Instead of Flowers
It's not always guaranteed, but here's a great way to make sure your next wedding shoot goes viral: replace flower bouquets with adoptable puppies. That's how photographer Caroline Logan's recent wedding shoot wound up skyrocketing to Internet fame.
You see, the bride in this case, Mrs. Sarah Mallouk Crain, actually works for a dog rescue non-profit called Pitties Love Peace. So naturally, when it came to planning her bridal party photos, she asked Caroline if they could trade in the bouquets for puppies from her rescue.
"When Sarah first came to me with this idea I was thrilled," Caroline told PetaPixel over email. "Because she is so involved with rescue pup work and has a huge passion for animal rescue in general, she was excited to include this huge piece of her heart in her wedding day and encourage others to #adoptnotshop. I immediately loved the idea and couldn't wait for their wedding day!"
Enter the puppies: one nine-week-old pit bull found on the streets of Brooklyn and lovingly referred to as Biggie Smalls, and five boxer-coonhound sisters named after the first first ladies of the United States: Martha, Abigail, Dolley, Elizabeth, and Louisa.
Fortunately, it turned out photographing the bridesmaids, groomsmen, bride, and groom with the pups was a … well … a walk in the park. The puppies actually helped make for more candid shots.
"While photographing six rambunctious puppies definitely brought an added challenge, it also caused the bridal party to be more at ease," Caroline explained to us. "Having something to divert attention from that uncomfortable 'Oh my goodness, I'm getting my picture taken… what do I do with my hands?!' feeling to pure puppy bliss made for relaxed photos where the bridal party was able to focus on interacting with the fun-loving puppies as I documented it all unfold."
Pure puppy bliss… we couldn't describe it better if we tried: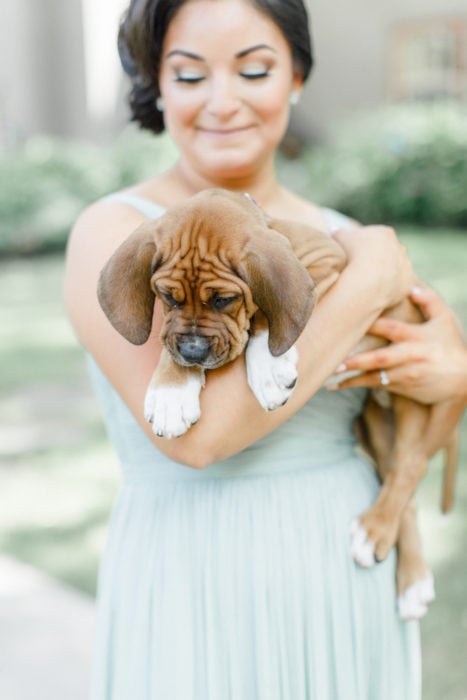 The best part, Caroline tells us, is that all of the puppies in the photos are adoptable, and Pitties Love Peace has seen a slew of requests since the photos went viral. Speaking of which, we asked Caroline what it was like to have her photos blow up like this. The short answer: surreal.
"This has been an unbelievably exciting few days, when I photographed my first wedding at age fourteen I NEVER imagined that my photos would someday go viral!" she said over email. "Having my photos go viral has been surreal, and it's so rewarding to see people connecting with them as much as they are! I am so grateful."
And we are also grateful. Our day was made at least 2,567% cuter thanks to this photo series.
To see more of Caroline's work—puppies not necessarily included—be sure to give her a visit at her website or check her out on Instagram, Facebook, and Twitter.
---
Image credits: All photos by Caroline Logan Photography and used with permission.