Profoto Introduces the Pro-10, The World's Fastest Flash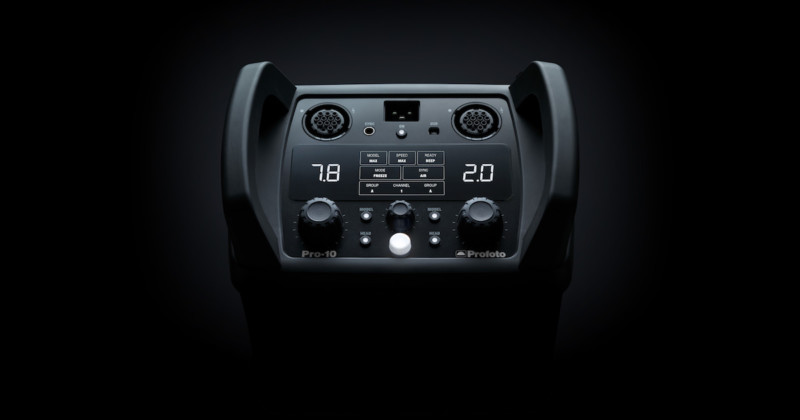 Profoto is on a speed kick this Photokina. First, they announce the D2, the world's fastest TTL monolight. And now, less than a week later, they've topped everybody yet again by introducing the Pro-10 studio generator: the self-styled "World's Fastest Flash."
The world's fastest claim comes from one very impressive number: 1/80,000 of a second flash duration in the generator's "freeze mode". That kind of crazy flash duration paired with 2400W/s of flash power and recycle times that allow bursts of up to 50 flashes per second makes for what Profoto is calling "the perfect fusion of speed and power."
"To say the Profoto Pro-10 is fast is an understatement," writes Profoto. "The light output it generates is truly enormous and it provides a shorter flash duration than any other flash across the entire power range."
It's a generator that aims to smash the speed barrier between you and any flash photography idea you might have bouncing around in your subconscious. Oh, and just like the D2, the Pro-10 also comes equipped with TTL and High Speed Sync up to 1/8000 of a second (with the optional Air Remote TTL).
"Ultimately, the Profoto Pro-10 is so much more than the world's fastest studio flash," boasts Profoto on the Pro-10 product page. "It's your imagination set free. It's the speed to exceed."
Here's a short film titled "Speed to Exceed" that highlights the Pro-10:
…and some of the still photos that were shot using the Pro-10:
Here's a "making of" video showing how things were shot:
The 'speed to exceed' hasn't been given a price point or official release date yet. For now, if you want to try the Pro-10 for yourself, you'll have to rent it. To find out more about this crazy new flash generator or locate a rental unit near you, click here.