Wild and Pure: Photographing Wildlife in Kamchatka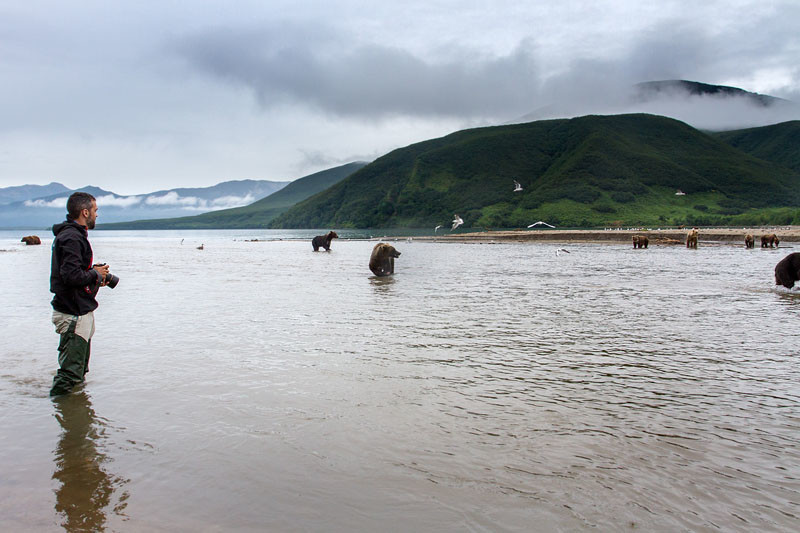 Kamchatka. Just the name evokes so many different and exotic feelings as flashbacks emerge from National Geographic features.
In recent years, as a pro wildlife photographer, I've been doing incredible features worldwide, but Russia is complicated and Kamchatka is remote and isolated… so it took me a couple of years to get everything ready for my special photography project in one of the last wild places on earth.

The way to Kamchatka starts with one of the world's longest domestic flights as I depart from Moscow to Petropavlovsk-Kamchatsky, the main city in Kamchatka. Nine time zones later, we land in the edge of the world.
This huge peninsula, much bigger than the UK, has been closed as a military restricted zone until 1990 and its nature is well-preserved and practically untouched. There is one place in Kamchatka that is truly magical: Lake Kuril. It's Eurasia's largest, and the world's second largest, salmon spawning site!
Brown bears gather here by the hundreds for a huge feast, gaining 150kg to 180kg before the winter's hibernation. Mother bears nurture their young cubs and teach them the secrets of salmon hunting. Russian Mi-8 helicopters carried me, with the photography group I was guiding, to the caldera lake of southern Kamchatka.
90 minutes of amazing landscapes later, we landed in our camp on the lake's shore. I spent days on the rivers' estuaries in Lake Kuril, sunrise to sunset. With special photography permits and a private guard named Sergey, I felt comfortable lying down on the muddy banks and photographed bears from a couple of meters away.
The number of bears, hunting side by side, in the rivers was overwhelming at first and exciting as time went by and I began understanding the bears' behavior patterns and merits.
I used all the photography gear I had: the Nikon D800 and D500, a Nikon 500mm f/4, a Nikon 200-500 f/5.6, a Nikon 24-70 f/2.8, a Nikon 14-24 f/2.8, and the Nikon 85mm f/1.4. I had my drone with me, a DJI Phantom 3 Pro, and this amazing tool has provided incredible and unique point of view on the lake and the wildlife. As a DJI ambassador, I'm doing the best I can to provide the most special shots, knowing it will be used in the future.
We spent 4 days in lake Kuril, along side with the bears. Tens of photography hours, hundreds of bears, and thousands of photos later, I can tell you that it was magical and intense. Photography-wise it's a wildlife photographer's dream, being so close and unconstrained with the wildlife.
After Lake Kuril, we returned to Kamchatka's capital and went on a two day Catamaran expedition and had the privilege to spend the sunrise with sea lions, orcas, Pacific puffins and even a curious humpback whale. After 2 days of a truck expedition to the Mutnovski volcano, we even had a wonderful stretch and exercise as we climbed into the caldera and walked between volcanic active crater.
Was Kamchatka up to the expectations? The answer is a huge YES. I admit, setting high expectations could be a recipe for disappointment. But in spite of the high goals, Kamchatka has been wonderful.
---
About the author: Roie Galitz is a professional wildlife photographer and workshop guide with vast experience in African and the polar regions on the world. You can find more of Galitz work on his website and Facebook page.