HANGIE is a Minimalist Wall Mount for Displaying Cameras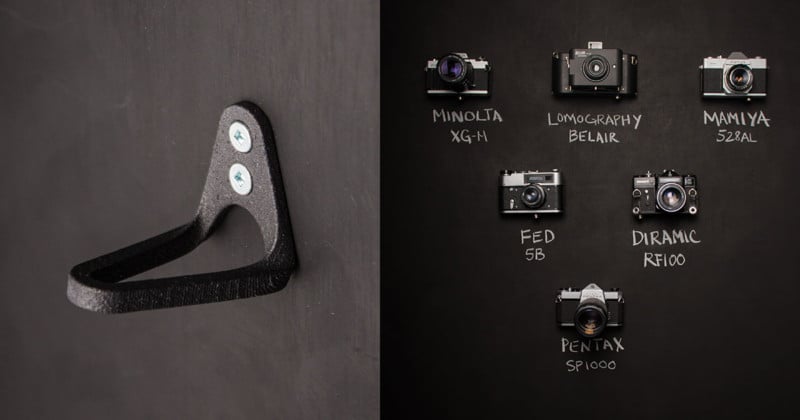 HANGIE is a new minimalist mount that lets you elegantly display your cameras on your walls. The 3D-printed design has a slim-profile that makes your cameras look like they're floating.

Created by the folks over at LaudWorks, the mount requires just 4 pieces: the mount itself, two wall screws, and a standard tripod mount screw.
After screwing the mount to your wall on one end, set your camera on top and tighten it to the mount using the tripod mount screw from below.
"That's it, really," LaudWorks says. "We made sure all the tolerances, depths, and clearances work so you don't have to."
The stainless steel mounts are strong enough to hold even DSLRs with lenses attached — it has been tested with a Canon 7D with a 17-55mm lens, a total weight of 3.3 pounds.
Multiple mounts and cameras (and chalk) can be used for functional wall art — the cameras can be quickly removed from the mounts anytime you need to shoot with them:
If you don't need as much strength, there's also a line of plastic HANGIE mounts for tiny cameras.
Metal HANGIE mounts come in 10 different looks and cost $21 each over on Shapeways. The plastic ones have 10 different finishes and cost $4 apiece.
---
Image credits: Photographs by @maiicraft/LaudWorks and used with permission