Make Your Own DIY Floating Camera Wall Mount for 2 Bucks
Ever since embarking on a cross-country move last August I've been meaning to display some of my cameras and, at last, spurred by a recent PetaPixel post, I finally did.
While I was inspired by the HANGIE cameras mounts, their $21 to $25 per-mount price tag and my tight budget required a cheaper, DIY alternative. And so I went to my local chain hardware store where I found 1.5-inch L-brackets which were an ideal size for most of my SLR cameras.
All I had to do was enlarge the existing hole in the bracket with a power drill to accommodate the standard 1/4-inch mounting screw:
The rest of the project was quite simple. For a single display mount I would purchase a bracket and two mounting screws, a 1/4-inch nut, and 1/4-inch machine screw. I could also have used a single, short machine screw; however, I chose the longer screw and nut combination to create a secure, adjustable mounting solution.
After properly securing the mount with appropriate screws I was ready to add a camera: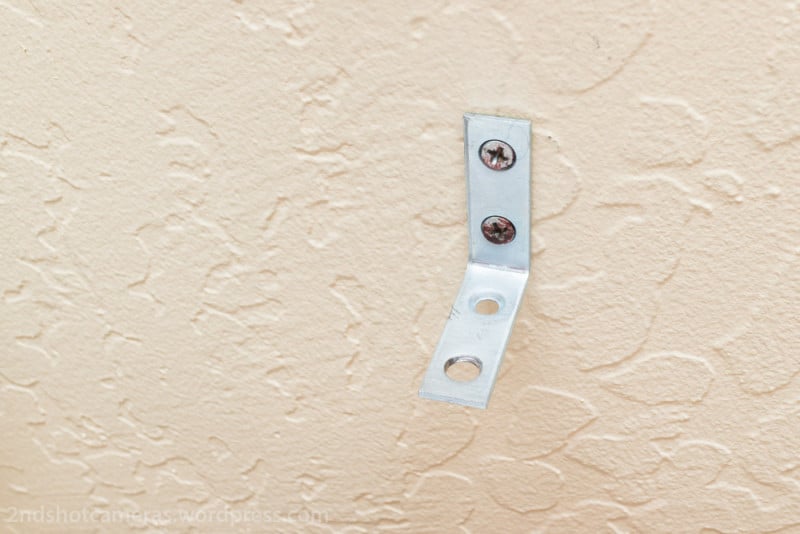 The final setup:
With three brackets I created a nice camera arrangement in our hallway:
Total cost for eight display mounts? $12.42. That breaks down to just under $1.56 per mount. Compare this DIY option to the commercially-available mounts that retail at $21 to $25 per mount and that comes out to a minimum of $168 for eight commercial mounts.
Excited by my success, I have even mounted my 1946 Speed Graphic using a larger 5-inch bracket—securely anchored to a stud for a total cost $3.95.
---
About the author: Chris Wirth is a photographer and general camera nut striving to give once-new camera gear another life through his website 2nd Shot Cameras. To read more by Chris or learn more about his passion for old gear, visit his website. This post was also published here.