Fisherman Catches Nikon DSLR Lost by Photojournalist Who Was Attacked
A woman was fishing at Hesperia Lake in Southern California on Wednesday when she reeled in a professional Nikon DSLR. After a search, she eventually discovered that it belonged to a photojournalist who was attacked while covering a story.

NBC Los Angeles reports that Shelly Hirst originally thought she had hooked a large branch, but discovered that it was a camera upon pulling it out of the water.
Even though the Nikon DSLR was badly damaged from sitting in the lake, the SD card inside the camera still worked. Hirst discovered over 1,700 photos on the card, with the last one featuring a timestamp of May 10th, 2016.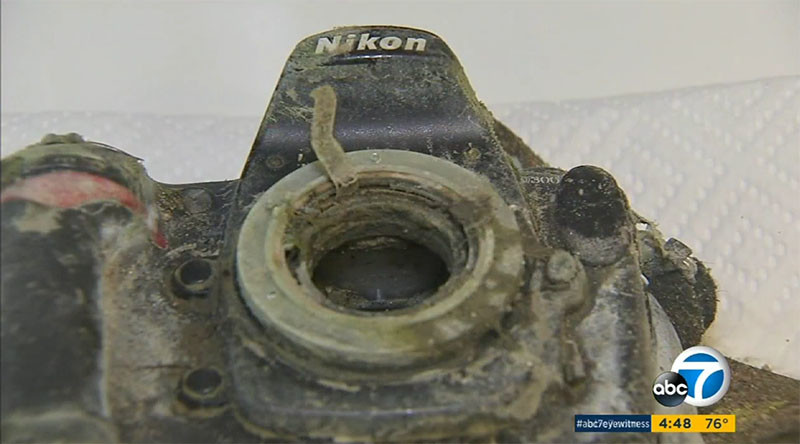 She then posted a message on Facebook asking for help in locating the owner.
A friend soon got in touch and told Hirst that a photojournalist named David Pardo of the Victorville Daily Press had been attacked at the lake back in May while shooting for a story.
While photographing families enjoying the lake, Pardo was asked by a woman to delete a photo he had taken of her feeding a duck. After Pardo refused and explained that it was a public place, two men joined the woman and confronted the photographer, punching him, knocking him to the ground, stomping on his equipment, and then finally throwing Pardo's two cameras and a cell phone into the lake.
The attacker and the woman were later arrested and charged with robbery, assault, and felony vandalism.
Upon learning of Pardo's story, Hirst contacted the photographer. On July 14th, Hirst met him and reunited the photojournalist with his lost camera and photographs. ABC13 filmed the reunion:
"He was very shaken up by the whole ordeal, almost in tears," Hirst tells NBCLA. "I felt really bad for him, but at least he gets his pictures back."