Kerlee Unveils World's First 35mm f/1.2 Full-Frame SLR Lens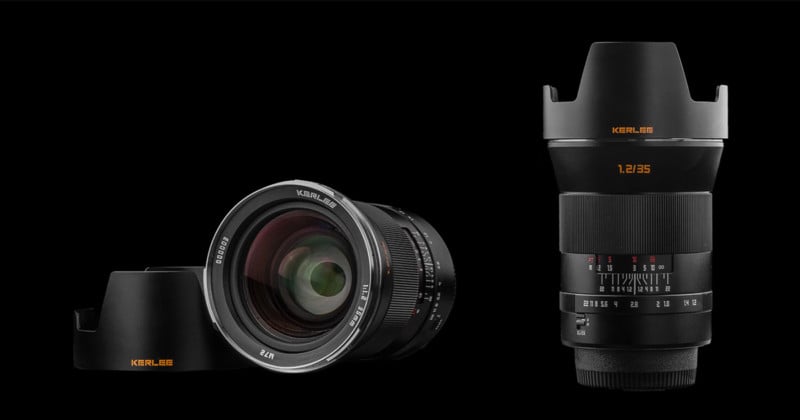 There's a new 35mm SLR lens on the block, and it's claiming to be the "world's fastest." We're talking about the new Kerlee 35mm f/1.2 by Chinese manufacturer Shenzhen Dongzheng Optics Technology.
Now before you scoff at their "world's first/fastest" claim and point out that the Voightlander Nokton 35mm f/1.2 has been around for years, take note that this is the world's first 35/1.2 for full-frame SLRs. Until now, nobody (to our knowledge) has made a 35mm f/1.2 for an SLR system, so DZOptics does seem to have a first on their hands with this lens:
Speaking of which, let's dive into the tech. The Kerlee 35mm f/1.2 is a manual-focus lens that uses 11 elements in 10 groups, including two high refractive index elements and one low-dispersion element. The minimum focusing distance of the lens is 0.3m/1ft, but the company claims it works optimally "within 1-5 meters," and the aperture clicks all the way from f/1.2 to f/22.
Oh, and speaking of clicking, the lens comes with a "switchable aperture lock," so you can switch over to smooth transitions when shooting video:
The company currently plans to manufacture the lens for the Nikon F, Canon EF, Sony E, and Pentax K mounts; however, no pricing or specific release date info is available for the Kerlee lens just yet.
Here are a few sample shots from the DZOptics website:
Of course low-res samples (even on DZOptics' website, these are 1500px on the long edge at best) can only tell you so much. So it was a pleasant surprise to hear wedding photographer Richard Wong, who has been trying out a pre-release version of the lens IRL, tell Bokeh that after a few minor fixes, the Kerlee would be "easily the most well-made Chinese lens."
Watch out Mitakon.
To see some higher res samples, check out Wong's blog post here. And if you want to find out more about this lens, head over to the DZOptics website by clicking here.