Why Photographers Need a Copyright Small Claims System
Professional Photographers of America, the world's largest pro photography non-profit trade group, is launching a big lobbying campaign in order to see the creation of a copyright small claims system in the United States, something that's "vital to your photography business," PPA says.

In the 2-minute video above, PPA lays out its argument about why such a system would greatly benefit a huge class of content creators.
"It may surprise you to learn that the majority of copyright holders in the United States are mom-and-pop businesses, the majority of which are professional photographers," PPA says. "Our current one-size-fits-all copyright system leaves out most visual artists."
The current system is biased toward low-volume, high-value creators, PPA says — movie makers, recording artists, etc. — but it's "largely ineffective for small creative businesses like professional photographers."
Recent surveys have found that 70% of professional photographers have dealt with copyright infringement, and most within the past 5 years. But the problem is that most infringements are valued at $3,000 or less, and 2/3 of intellectual property lawyers say they wouldn't take a copyright case with a potential payout of less than $30,000.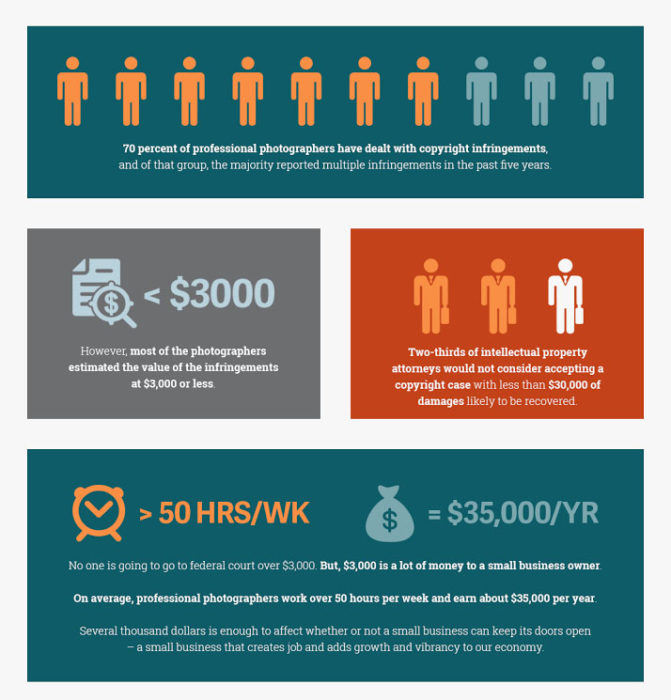 PPA has been fighting hard for over a decade for a new copyright claim system that's more suitable for smaller copyright infringement cases — those that photographers can pursue without jumping into a huge, lengthy, and expensive legal battle.
"A game-changing piece of legislation is underway to create a small claims process, which will be huge for photographer's copyright protection," PPA says. "The House Judiciary Committee recently began working on legislation that would greatly improve the current copyright process for small-business owners."
If you'd like to find out more and support the grassroots movement, PPA has an advocacy page that can point you in the right direction.