Adobe Unveils a New 'Guided Upright' Tool for Lightroom and Camera Raw
Adobe today announced its latest updates to Lightroom and Camera Raw. In addition to new lens support and various bug fixes, the updates bring a brand new feature called Guided Upright — it's a tool that lets you easily straighten lines in photos.

Adobe had previously introduced Upright as a tool for photographers to "straighten images, fix horizons, and reduce or eliminate the keystone effect in buildings."
"Upright works well when there are prominent vertical and horizontal lines," Adobe says, but "not all images contain prominent lines, limiting the effectiveness of Upright."
So, the company has developed a new Guided Upright tool that lets you give "hints" to help Upright work effectively. Simply draw the vertical and horizontal lines directly onto your photo, and the Upright tool will have what it needs to help fix up your image.
Here's a short video tutorial that shows how the tool works:
After enabling "Lens Profile Corrections" in your software, click the new "Transform" panel. Click the "Guided" button and then draw 2 to 4 guide lines on your image. The Upright tool will automatically transform your image once you've drawn at least 2 lines. You can then fine tune your results more using the transform sliders.
Here are a few examples of what the Guided Upright tool can help you achieve: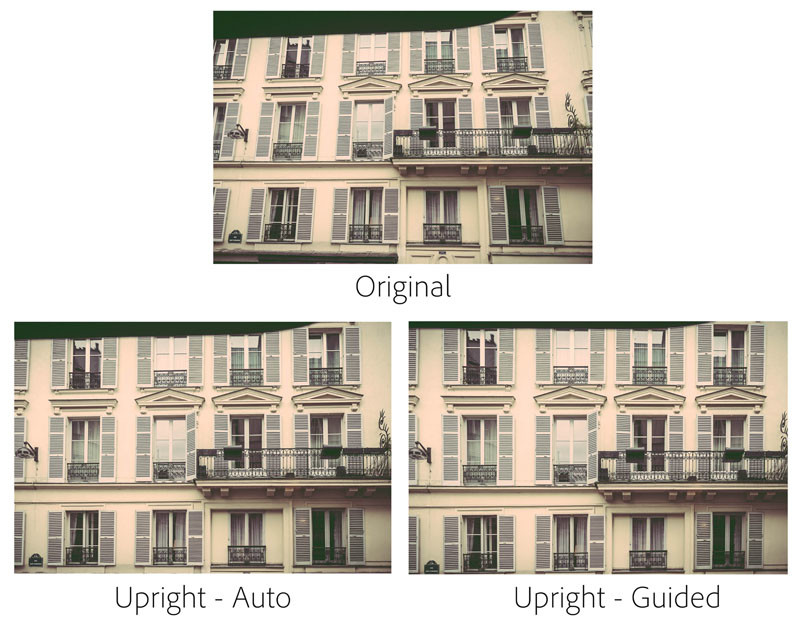 As you can see, providing some hints about where lines exist in your photos can help Upright achieve straighter lines and a more corrected perspective than if it's left to work its magic on its own. To get started with the new Guided Upright tool yourself, upgrade your software to Lightroom CC 2015.6, Lightroom 6.6, or ACR 9.6.