The World's Largest Tintypes, Created with Room-Sized Cameras
A while back we shared the world's smallest tintypes, created with a tiny modified camera. Now here's a look at the opposite end of the spectrum: the world's largest tintypes, shot using a colossal room-sized cameras.

The tintypes are by London-based artist duo Walter & Zoniel as part of a project titled The Untouched.
It all began when the duo found a small ambrotype photo at a flea market. Walter then began exploring using the process to shoot larger 16×20 head-sized portraits. After 6 months of mastering the technique, the duo then built room-sized cameras (one was 3×24 meters) and began shooting full-length, 1:1 life-sized tintypes. The lens they use took 5 years to find and obtain.
"Each sitter life sized, each one shot on a giant sheet of metal; the largest images of their type in the world, each one barefoot, human, like us all," the artists write. Creating the world's largest tintypes wasn't their goal, through: they simply needed plates large enough for life sized portraits.
After building and testing their camera at the Gazelli Art House project space over the past couple of months, Walter & Zoniel are currently creating their giant works on site at Photo London and V&A, transforming rooms in those venues into their giant cameras.
"The process is incredibly physical for us in the making and completely immersive for the subjects as they are brought into a different pace and environment required to create these works," Walter & Zoniel tell PetaPixel. "Each person ultimately has just one shot at a very extended exposure time (so far up to 35 seconds), we may do a small (16×20) study to test light and chemistry, but only one singular full sized plate."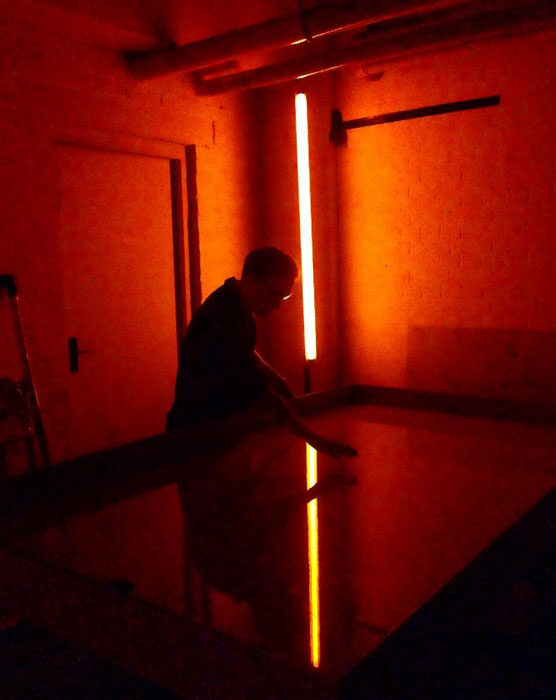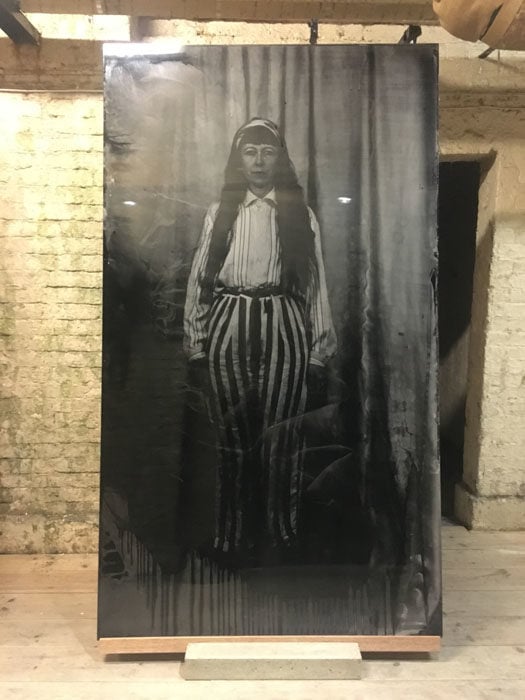 You can find more of the duo's work and information about their upcoming events and exhibitions on their website.