I Shoot 35mm Double Exposures at Big Sports Games
My name is Cooper Neill, and I'm a freelance photographer based in Dallas, Texas. I've found that sports photography can be an extremely challenging creative endeavor. At every game, there are several photographers, all with the same equipment, sitting in the same spots along the sidelines. When you're sitting in those same seats in the same arenas several times a week for a few years, it can make work very repetitive.
As a photographer I started seeing the games the same way night after night getting my standard images and nothing else. To get myself out of a creative funk, during blowouts, I started shooting 35mm film, then rewinding the film and shooting over it for a second time – creating double exposures.

The goal is to add extra layers of information into a single image that would not be possible with a standard photograph. There's so much going on at sporting events – the action, the atmosphere, the details – that it's hard to fit everything into one frame.
The photo above shows cheerleaders from the University of Oregon cheer after the Ducks scored a touchdown against the Ohio State Buckeyes during the 2015 College Football Playoff Championship Game, while an Oregon player walks off the field after the game after losing, 42-20.
Here are some more of the double exposure sports photos I've made so far: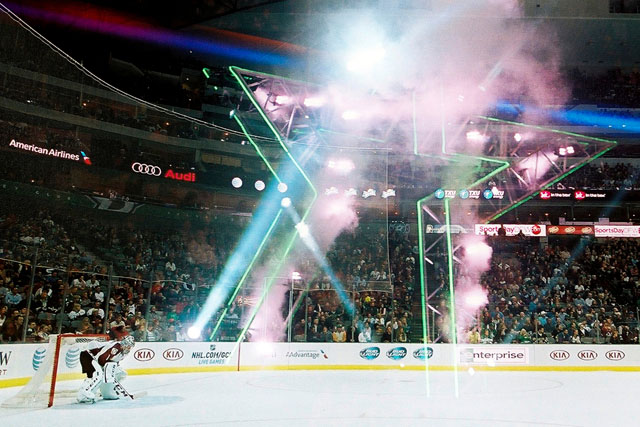 An added perk of shooting on 35mm film is that you're not limited on the number of frames you can shoot and there's no way to tell what you have until you process it. It forces the photographer to be more selective and really think about the lighting, composition and final product will look like before snapping a frame which gets the creative juices flowing.
You can find more images from this double exposure project on my website.
---
About the author: Cooper Neill is a freelance photographer based in Dallas, Texas. He earned his masters degree in journalism from The University of Texas in 2012 and has been freelancing for clients such as The New York Times, Reebok, UFC, Getty Images, ESPN and Rolling Stone amongst others. You can find more of his work on his website and through his collective.