Nikon and Photographer Apologize for Photoshopped Prize-Winning Photo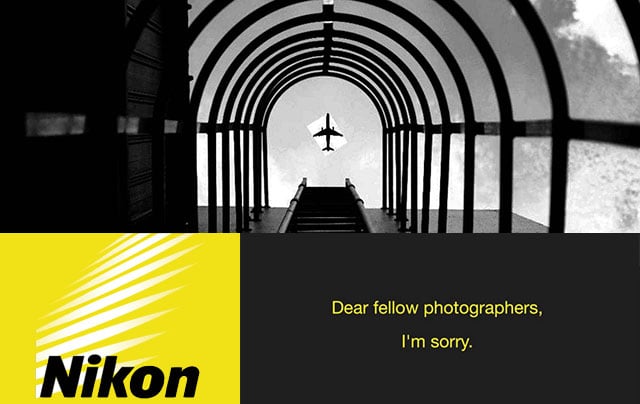 One of the big stories in the photo world this past weekend was the fact that Nikon Singapore selected a clearly Photoshopped image as the winner of a recent contest. After a wave of relentless mockery from photographers around the world, both Nikon and the winning photographer have since apologized for what happened.

We first received the apology from photographer Chay Yu Wei directly last Friday after reporting on his win. In an email, he wrote:
I am the one who submitted the Chinatown plane post, and I would like to address it.

I've been quiet so far because I've been trying to contact Nikon and have been waiting for them to contact me back to discuss about this. I understand that what I would say might affect Nikon's brand hence I decided to wait for their advice. However, since more than 24 hours have passed and I have not managed to have discussions with Nikon, I think I shouldn't wait and it's important for me to come out to address this issue.

Like one user commented, I was on a photo walk in Chinatown and I chanced upon that set of ladders. I snapped a picture of it, and subsequently felt that a plane at that spot would make for an interesting point of view. Hence, I inserted the plane with PicsArt and uploaded it to Instagram. That's how I use Instagram, sometime it's to showcase the work I'm proud of, sometimes just to have fun. This case, that small plane was just for fun and it was not meant to bluff anyone. I would have done it with photoshop if I really meant to lie about it, but no, it was a playful edit using the PicsArt app and uploaded to Instagram. When my friends commented with some questions, I also answered it jokingly, saying it's the last flight of the day and saying it was my lucky day that I did not wait too long. At that time, of course everyone who read it took it as a joke, before this issue arrived and it is taken seriously.

However, I made a mistake by not keeping it to Instagram as a casual social media platform. I crossed the line by submitting the photo for a competition. I meant it as a joke and I'm really sorry to Nikon for disrespecting the competition. It is a mistake and I shouldn't have done that. I also shouldn't have jokingly answered Nikon that I caught the plane in mid-air and should have just clarified that the plane was edited in using PicsArt. This is my fault and I sincerely apologise to Nikon, to all Nikon Photographers, and to the photography community as general.

This has been a great lesson to me, and I hope I will be a wiser person to use this as encouragement to polish my photography skill. Thank you for taking the time to read this, and I also appreciate all the supports from friends around me.
Yu Wei also posted his apology on Instagram over the weekend, saying "I'm sorry" to both his fellow photographers and to Nikon:
Nikon also reacted swiftly to the outcry. Last Friday, it posted an apology to the same Facebook page that made the original announcement.
"We have made an honest mistake and the rousing response from the community today is a reminder to us that the true spirit of photography is very much alive," Nikon Singapore writes. "Moving forward, we will tighten our image review process to avoid similar situations in the future."
We have heard your comments and feedback on this, and you are right – we should not compromise standards even for a…

Posted by Nikon on Saturday, January 30, 2016
The photo and the announcement have been deleted from Nikon Singapore's Facebook page. Nikon issued a second apology yesterday:
Dear fans,We are heartened that the community is so passionate about maintaining the highest standards of pure…

Posted by Nikon on Sunday, January 31, 2016
But unfortunately for Chay, the apology doesn't seem to be the end of the story for him. Bokeh points out that his previously-prize-winning photo is nearly identical to a photo published by a fellow Singaporean photographer named Yik Keat a year earlier:
And unlike Chay, Yik was up front about his photo being a composite from the very beginning, telling a fan that it's a "double image edit."