I Shot Cinematic Portraits of My Inspiring Grandfather
My name is Dragos Ionescu. I was born in 1992 in Craiova, Romania, and moved to London, UK, almost 5 years ago to study and pursue a career in photography, and am currently in my final year of studying photography at University of East London.
Over the winter holidays I had some free time from university and I decided to shoot a series of portraits of my grandfather.

The project is both to document my grandparents as well as to stage different scenes and tell different stories with my grandfather as the model. When a person gets to a certain age you start to think it's possible that you might lose them any day. It's a saddening thought but a reality nonetheless. I wanted to have some more photographs of my grandparents and to also spend some quality time with them. I focused more on my grandfather because he was the only male figure to me growing up — I was raised by a single mother and my grandfather was my only paternal figure.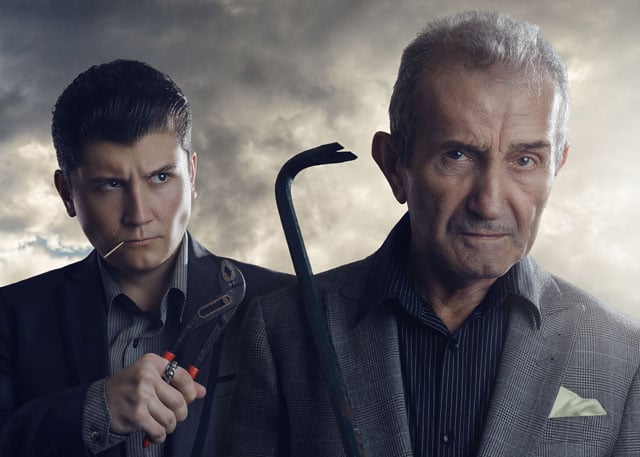 Antonie, my grandfather, is a 75-years-old retired Romanian army colonel from Craiova, in the south of the country. He is an inspiration to me because of his willpower and ambition. My grandfather was so poor when he was young that he didn't even have his own pair of shoes. Somehow he didn't let that situation get in his way and through hard work he raised to a good position within the military.
He also quit smoking at age 70 which inspired me to do the same last year. My grandpa's agility, strength and toughness still amaze me. He and my grandmother have been very supportive of me and my passion, although I believe they wanted me to become a doctor (like most grandparents do, I'm sure). For Christmas I received from them a new portable strobe, so what better way to show them my gratitude than by taking some interesting portraits of them?!
I didn't really have a clear idea when I started shooting, I just knew I wanted to take different pictures of my grandfather and in this way to spend some more time with him. This also helped me practise my lighting and post-processing skills. Until recently, my favorite photography genre was landscape. I've been interested in portraiture for just a little over a year so I haven't discovered my style yet.
Some of these portraits were inspired by photographers that I admire and look up to, such as Annie Leibovitz and Joey L. I also draw inspiration from various mediums such as film and painting, but I feel a connection towards a more cinematic style.
All these portraits were taken within my home. I retouched them differently and changed the background for all of them in post-processing. The blizzard portrait below, for example, was inspired by Joey L's amazing "Explorer Portraits". I did not have his resources, professional lights or a snow machine, so I used 2 flashguns and created the fog and snow as realistic as I could in Adobe Photoshop.
I will finish my university course this year and then I hope to make a career out of my passion and work as portrait photographer.
---
About the author: Dragos Ionescu is a Romanian photographer based in London. Through his work he seeks to express emotions, tell stories and put the viewer in a certain atmosphere through subject, composition, light and color. You can find more of his work on his website.