Photographer Criticized for Christmas Photo Showing Family Bound and Gagged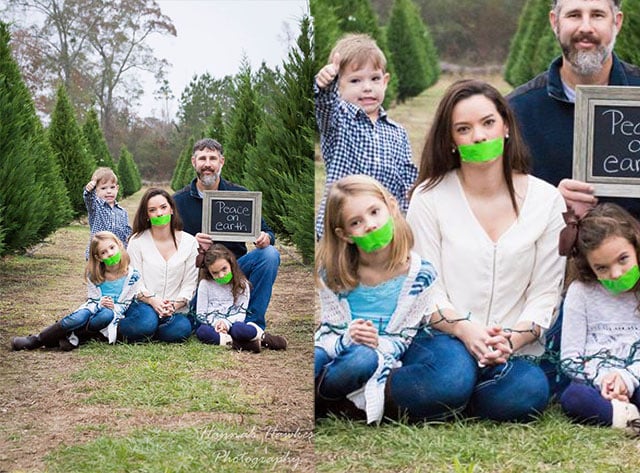 Louisiana-based photographer Hannah Hawkes is taking heat this week over a family portrait she shot and shared on her Facebook page. The Christmas photo shows the father holding a sign that reads "Peace on Earth" while the mother and two daughters are gagged with green tape and bound with Christmas lights.
The photo soon went viral in a negative way for Hawkes, as commenters around the Web condemned the photo as "sexist," "degrading," and promoting violence toward women.

After being shared on Facebook on December 13th with the caption "Finally, Peace on Earth!," the photo quickly received thousands of Likes, Shares, and comments:
While some commenters left positive messages, negative criticism poured in as well. People took to Twitter to bash Hawkes and her photo:
Photographer Hannah Hawkes – we know that family isn't being abused in the photo. It's what the photo symbolizes that is so awful.

— joanna schroeder (@iproposethis) December 15, 2015
Having a WTF moment?Hannah Hawkes Photography on F.B. posted these. #domesticviolence #domesticabuse pic.twitter.com/R1nPLyTatO

— digitz (@digitgaloz) December 15, 2015
The seeds are planted at such a young age. So sad Hannah Hawkes Photography. Maybe @CNN or @FoxNews will cover story pic.twitter.com/uc9yXxkipF

— Sarah Schnell Jones (@sarahssjones) December 15, 2015
Hawkes soon took down her photograph and posted a message the next day to respond to her critics. "I would like to say that as a female I do NOT and have never promoted violence to women! I do not support abuse, or the degradation of women," Hawkes writes. "My controversial photo was taken by request by the family, and was in no way meant to promote abuse."
"This photo was taken with humor in mind, and was meant as a comical Christmas photo."
Days after the photo was taken down, Hawkes is still getting angry and abusive comments on her Facebook page. Others have also come to Hawkes defense, saying that people are getting angry over nothing, that Hawkes did nothing wrong with her satirical photo, and that this is another case of "Social Justice Warriors" at work.
---
Image credits: Photographs by Hannah Hawkes Photography and used with permission