Lightroom Slow? Try Setting a Huge Cache Size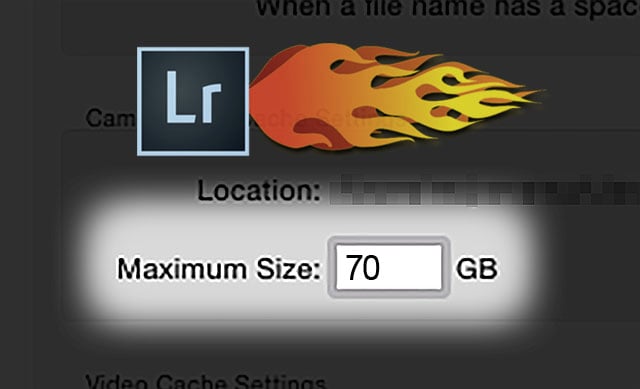 Here's a quick tip: if your Lightroom's Develop module is a pain to work with because it's so slow, try increasing the Camera Raw cache size in the settings to a huge limit. As long as you have disk space to spare, you could see a major increase in speed.

Photographer Nicky Digital of New York City was experiencing major slowdowns with his Lightroom image catalog containing 288,889 photos. He consulted with Lightroom tech support, and they told him to increase the cache size from 4GB to 50GB, and then from 50GB to 70GB.
The change worked, and now Nicky's Lightroom is usable again:
@lensshark For my 288,889 image catalog @Lightroom had me increase my cache to 70gigs which seems excessive but it's working.

— NickyDigital (@NickyDigital) October 28, 2015
Yo @Lightroom users who are bogged down with the new update should try increasing cache to 50+ gigs. I bumped mine up and can work again.

— NickyDigital (@NickyDigital) October 28, 2015
Adobe gives this same recommendation in its guide for optimizing Lightroom performance.
Every time you view or edit raw images in the Develop module, Lightroom generates up-to-date, high-quality previews. It uses the original image data as its foundation, and then updates the preview for any processing or adjustments that have been applied. The process is a little faster if the original image data is in the Camera Raw cache. Lightroom checks the cache for the original image data and can skip early stage processing if the image data is cached.
"Some Lightroom users find that increasing the Camera Raw cache to 20 GB or more can dramatically speed performance in the Develop module," Adobe writes.
To increase your Lightroom's cache size, go to the Preferences window, click the File Handling tab, and enter a new value in Camera Raw Cache Settings. You can also increase Lightroom speed by storing the cache on a solid state drive if you have one.