Photographers Get Swarmed by Football Team After Crazy Finish
Georgia Tech pulled off a crazy 22-16 win over the #9 ranked Florida State football team this past Saturday after a field goal attempt for the win was blocked and returned 78 yards for a touchdown with no time remaining.
A number of photographers found themselves in the end zone as the memorable play unfolded — some got shots, while others got swarmed.

Here's a 1-minute video of the winning touchdown that was posted by the Georgia Tech Yellow Jackets. At about 25-seconds in, you can see how a couple of photographers suddenly found themselves sandwiched between pumped up players and frenzied fans:
A few still frames from the video:
Luckily, the photographers emerged from the mass of people unscathed and kept on shooting.
In the last frame above, see that photographer on the left with the white shirt and the DSLR with the external flash unit? That's photographer Drew Humphrey, a Georgia Tech student who got field access for the game to shoot a halftime homecoming event. He managed to capture this amazing photo of the winning touchdown just before the football players descended on the photographers: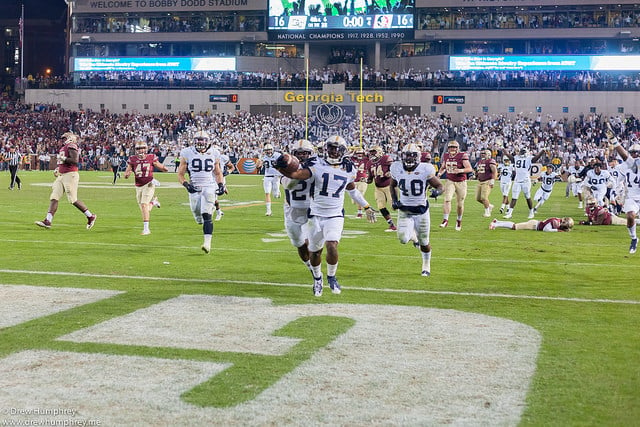 You can view a larger version of this photo (and other shots from the game) over on Humphrey's Flickr page.
---
Update: Georgia Tech team photographer Danny Karnik got in touch with us to tell us that it's him in the white polo getting swarmed by the players. "Definitely an unforgettable moment!" he says.
Here's the sequence of photos he captured of the touchdown from his vantage point: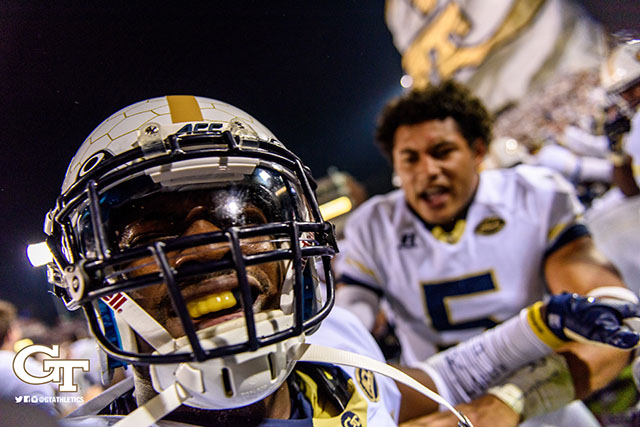 You can find more of Karnik's photos from the game in this Exposure gallery and on the Georgia Tech athletics website.
---
Update: Photographer John Hwang got in touch to tell us that he's the guy in the gray shirt next to Danny Karnik with a huge grin on his face. "Nothing like having fifty-plus 200+ lbs football players crushing you!" he tells PetaPixel. Here's the sequence of photos he shot (containing the outtakes):