500px Expands into China with 500px.me, and Some Photographers Aren't Happy
Back in July 2015, we reported that 500px had raised an additional $13 million in funding led by China's equivalent of Getty Images, the Visual China Group. The move suggested that 500px was working hard to offer its massive archive of 55 million images to photo buyers in Asia.
Today, 500px announced that it is officially expanding into China with the unveiling of a new website, 500px.me.

On the company's ISO blog, CEO
Andy Yang writes
that the $13 million helped "set up a joint venture with VCG in order to help expand 500px into China in a way that no other photo community has been able to make happen." 500px.me is the result of that partnership with VCG.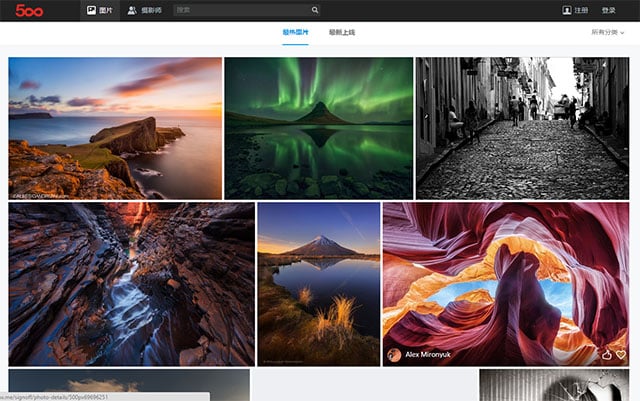 Yang says that 500px.me is a localized (i.e. translated) version of the main 500px.com service, not a separate entity — it'll "act largely as a mirror," he writes. It's still in beta, and the full launch of the site will happen later this year. After the launch, users will be able to opt out of 500px.me, and any photo you delete on 500px.com will be deleted from 500px.me.
By launching this new website, 500px says it's giving its users access to "a massive new audience" and a "potential reach of 1.3 billion more people."
Some photographers aren't happy about this development, and they're taking to the company's forums to speak out.
"…several of us have deleted images over the past 2 days from 500px but they remain on VCG," writes Mark Johnson. "So can you tell me how to delete them or HAVE YOU LOST CONTROL of our images now you have given them away […] Find a solution, I want my images removed."
"My images have been copied to your new chinese version of 500px without my permission," says Ted Gore. "If that's not bad enough, the colors have all been shifted, the order of their placement is completely random, and any information for any viewer to find me or any information about me seems to be absent."
Anne Sorbes writes: "You allow you to publish my pictures on a Chinese site without my knowing. I confide to you my photos for sale but you do not have the right to publish on another website without my agreement. I have no desire to be part of your Chinese adventure and I want my pictures to be removed from the site before leaving for good."
So far, the company has responded to the forum threads above by linking the disgruntled photographers to the blog post by Yang.
---
Update: Here's a new statement provided to PetaPixel by Lisa Langsdorf of 500px:
500px.me is 500px.com but a localized version of the site for Chinese users. By localized, we mean that anyone who wants to use 500px will have access to the same experience as our other international users. In order to operate 500px in China, 500px needs to live on a localized Chinese Web site. As a result, we launched a beta product as part of testing process. Some of what you are seeing, such as photos not syncing correctly between the two sites, is a result of this testing. It is our intention to give 500px users control over 500px.me. We expect to have this issue resolved soon and will continue to keep the community posted on our progress and the full launch date.

Some of our community members have expressed concern over their profiles appearing on 500px.me. This is not much different than a user in another country seeing your photos. However, in order to operate in China we have to do things a bit differently. Typically, we roll out our product in new countries using the same 500px URL but we are not able to launch this way in China. This is why we've used the .me extension.

But, we understand if people feel strongly and want to opt out (of the beta) and China. Please send your request to help@500px.com and we will have this done for you as soon as possible, manually.

I hope this makes things clearer. Realize that the post from earlier today might not have explained this fully.