Trident is an Underwater HD Camera Drone That Lets You Explore The Seas
We're in the dawn of a new camera drone age in which aerial units are readily available from a number of different manufacturers. In addition to taking to the skies, companies are also looking to take drone exploration in the other direction: to the depths of the seas. OpenROV has just launched a Kickstarter campaign for the Trident: a submersible drone geared toward the general population.

After the OpenROV team had been designing their own drones for almost half a decade, they decided to create an open source solution for consumers to enjoy. The Trident underwater drone comes ready to operate out of the box and is aimed at being easy to use for those new with the hobby. Best of all, everything is packed into a sleek, yet powerful, form factor.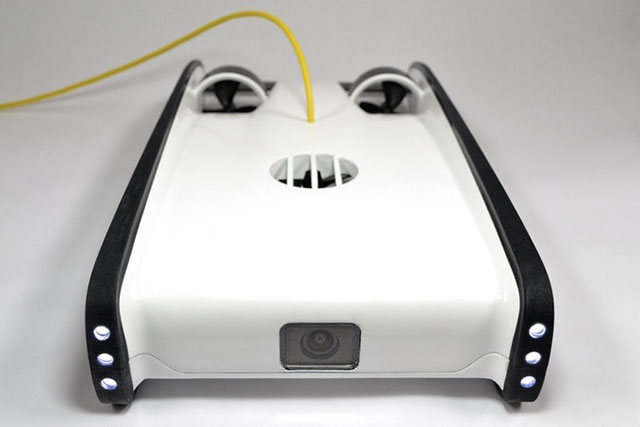 OpenROV says that they "painstakingly throughout" the Trident's design to optimize its performance and usability. They claim that the unit's specially hydrodynamically offset thruster design allows the Trident to move quickly when needed or maneuver delicately when desired.
The form factor of Trident is "small enough to fit in a backpack or fit under an airplane seat", so you can take the unit wherever you are headed. OpenROV notes that the unit's sides are molded with firm rubber that protect it "from underwater obstacles as well as rough handling."
For those wanting to know the technical specifications, the Trident can dive to a depth of 100m and move at a top speed of 2 m/s. The best part is that, unlike aerial drones with short battery capacities, the Trident can last up to three hours of run time.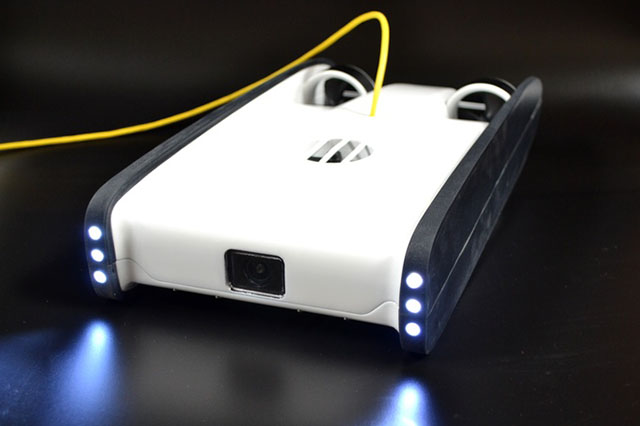 You won't need to worry about losing your drone either, a buoyant 25m tether keeps your drone close while also communicating via long range WiFi signals to the operator. Details on the camera are sparse, but we do know that an HD camera will onboard to transmit video and audio. Two embedded LED light boards will allow for better image capturing at night.
Controlling the unit can be done on any device thanks to HTML5 and other modern web standards. In addition, the Trident software is open source so that anyone in the community can make their own modifications. Use different UI themes to best suit your experience and more.
The Trident is currently available on Kickstarter for $949, which includes the Trident drone with a standard tether and wireless topside buoy. For $350 more, you can add on a special hard case, along with the longer 100m tether. OpenROV has already surpassed their goal, so if you back them now, you can expect to receive a Trident by November 2016.