This Drone Dives Up to 574 Feet Underwater, Features Sony Sensor
Flying drones have become extremely commonplace but also suffer from growing restrictions on their use. It's hard to argue against their novelty, but safety continues to be a concern. So where do drones go next? What about underwater?
Underwater robotics company Geneinno recently announced its second underwater remote operated vehicle (ROV), the T1 Pro. Designed for more industrial uses, it does have several intriguing features that could appeal to photographers and videographers alike. For starters, it can dive as deep as 574 feet underwater and illuminate its surroundings thanks to a pair of 3000 lumens forward-mounted LED beams.
It sports a total of six motorized rotors for maximum maneuverability underwater (and can be outfitted with an additional, optional lateral thruster), and unlike flying drones has a very impressive battery life: four hours via the built-in battery and eight total hours with the addition of an external battery. Each battery can fully charge in three hours. It has a pretty impressive peak speed of 6.8 feet per second (2 meters per second).
Though clearly not a photo-centric drone, what the T1 Pro does come equipped with isn't bad. It features a 12 megapixel 1/2.3″ Sony CMOS sensor with an f/2.5 aperture and a fixed shutter speed of 1/30 second. It can shoot in JPEG, DNG RAW, or both simultaneously to an internal 128 GB memory card (the technical specifications and information PetaPixel was provided did not specify exactly how storage is handled). That sensor can also capture 4K video up to 30 frames per second and 1080p video up to 60 frames per second.
The drone can also live stream up to 1080p resolution.
The below video shows the original T1, the company's first-generation underwater ROV that can reach a shallower, yet still impressive, 492 foot depth:
Underwater photography is always popular with travelers, especially in tropical locations. It's why one of Olympus' best-selling product lines is its rugged Tough TG-6 underwater camera. But you can only do so much with hand-held camera equipment, and the ability to do some serious underwater exploration and documentation would not be an option without something like the T1 Pro.
Because of the tricky nature of radio waves and water, the T1 Pro does use a long tether to keep itself connected to your mobile device and controller. There are methods that have been developed to communicate wirelessly underwater, but nothing to the degree that would be able to handle the high resolution live streaming the T1 provides… yet.
The T1 can be outfitted with various additional optional add-ons that make it more suited for industrial applications like an omin-scan sonar, water quality detector, a second external camera that can be mounted below the T1 Pro to assess seabed conditions, a robotic arm attachment, and a laser scaler that can measure objects that divers can't explore safely. While these add-ons are much more practical than creative, they show that there is much that is possible in the world of underwater drone and ROV development.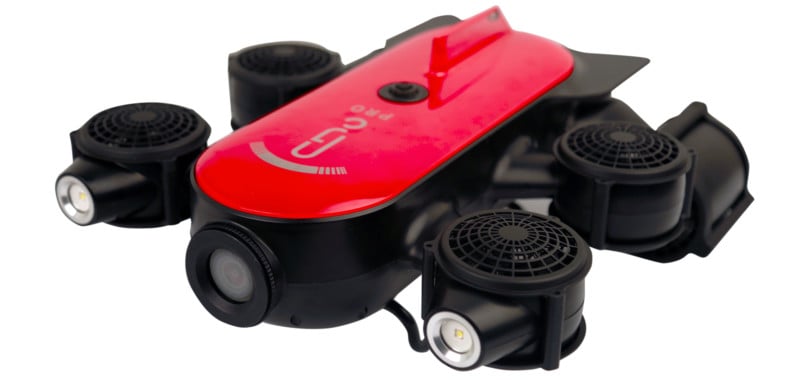 The T1 Pro is likely out of reach for most general consumers given its $3,000 price and limited photo/video capture capabilities, but what it can do does make you wonder what the next big leap for drones and robotics in photography will be. Looking at the company's online store, they already came close. While more video-focused, the sold-out Poseidon I underwater drone is very nearly what has been described. The Poseidon even gets around the wired issue a bit by attaching the necessary cable to a floating buoy that will allow for wireless communication with the controller.
Considering the explosion of beautiful aerial images that have flooded the market since the widespread availability of drones, imagine what creators will discover under the sea, the largest unexplored landscape on Earth. If a company developed a drone like the T1 Pro but with more expansive features of an Olympus TG-6, that would be a product creative professionals might get behind.