Hobie is a 360-Degree Time-Lapse Tool Built From an Ordinary Kitchen Timer
Startup Overlab has launched a Kickstarter campaign to fund Hobie: a personal time lapse tool with the heart of a kitchen timer. Hobie utilizes an actual ordinary kitchen timer at its base to rotate the camera mount perched upon it. Simply dial-in the time on the base, insert your smartphone into the circular mount, and begin capturing easy time lapses. As a bonus, when the base finishes rotating, it rings loudly to let you know the process is complete — and that your eggs are done boiling.


Hobie's creators aimed to create a simple device that utilized already existing technology to keep the costs low. The result is a portable device that you can use to capture 360-degree video with your smartphone placed at you chosen angle throughout the process. Overlab tested a few different timers before deciding on the cylindrical timer pictured here.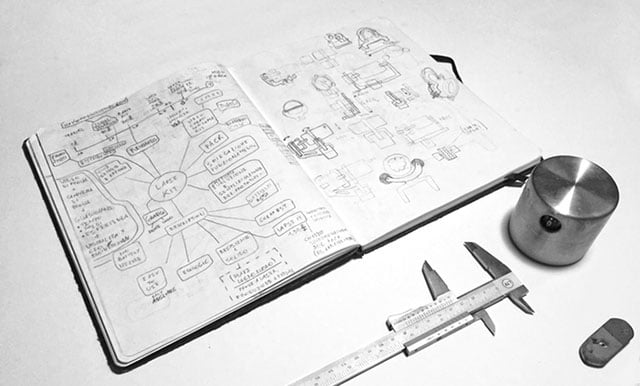 With squid-like legs folding over the top of the timer, Hobie's camera mount can accommodate phones almost 8 cm wide, such as Apple's iPhone 6s. Slide in your phone to get started and rotate the center to adjust the angle at which your phone sits. While the timer will always be brushed metal, the Hobie is plastic and comes in either white, ice, blue, and black.
Overlab's Hobie project began with a goal of $15,689, and they have already raised more than doubled that amount; this has caused the company also to make available the Hobie+, a similar version of the regular Hobie with a larger improved base with a tripod mount. The creators also claim that the central rotating mechanism has been improved for faster operation.
We would like to quickly point out two factors that should be taken into account if you decide to the purchase Hobie. The first point is that, being placed upon a kitchen timer, you can not set the speed of which the unit rotates. Overlab states that a 90-degree rotation takes 15 minutes, an 180-degree rotation takes 30 minutes, a 270-degree rotation takes 45 minutes, and a complete 360-degree rotation takes 60 minutes.
The second point worth noting is that you must insert your smartphone so that it is perfectly centered, otherwise as the device rotates your center axis may be a bit off. Hobie is obviously not a professional's tool, but should still allow for photographers and cinematographers alike to create some interesting videos while on the move.
Hobie can be picked up at its early bird price of $31, which then becomes $38 when the limited promotion ends. Hobie+ is available at an early bird price of $44 and will become $50 when its promotion also ends. If you love Hobie, you can pick up a few special edition packages that include a small fisheye phone lens and a T-shirt for $78.