Z Nation Made This Face-Mounted Sony a7S Rig for an Interactive Zombie Game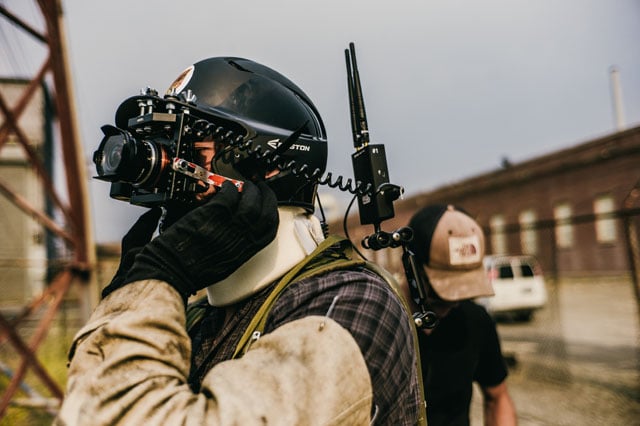 To promote the second season of its post-apocalyptic zombie TV show Z Nation, Syfy recently released an interactive choose your own adventure game called Find Murphy that was shot from a first person point of view. The footage was captured using a special face-mounted Sony a7S mirrorless camera.

"The core idea was to design a kit that allowed the operator to frame and shoot with the A7s as naturally as possible for a first person shooter perspective shot," photographer
Daniel Schaefer
tells PetaPixel.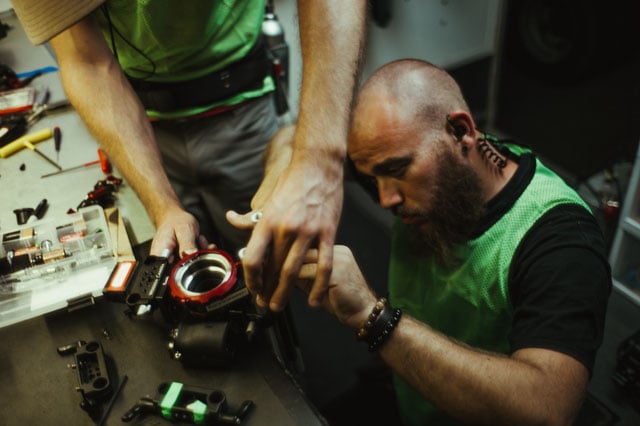 The rig consisted of a a7S cage attached at various points to a standard baseball helmet. For the lens, the team chose to use a Voightlander 15mm f/4.5 II lens because of its small profile and its low distortion.
"We wanted to keep the weight signature of the helmet as isolated as possible, avoiding any elements that protruded out too far that would have to be awkwardly counterbalanced," says Schaefer.
ACs Coty James and Nick Bianchi also connected the a7S to a Teradeck transmitter so that the directors and producers could monitor the shot while Director of Photography Alexander Yellen wore the face-cam:
Once the rig was finalized and working, Yellen recorded each possible scenario in the interactive video from a first-person perspective:
Want to try surviving in the game for yourself? Click here or the screenshot below to get started.
---
Image credits: Photographs by Daniel Schaefer/Outlier Imagery and used with permission