The CAMSLINGER Streetomatic is a Hip Camera Bag With Quick Access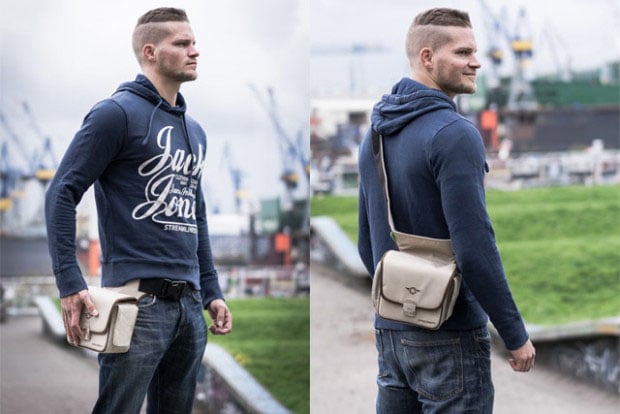 German photography accessory company COSYSPEED has just introduced their latest creation on IndieGoGo. The CAMSLINGER Streetomatic is a sling strap and camera bag for mirrorless cameras, DSLRs, and superzooms. Aimed to rest comfortably on your outer thigh, the CAMSLINGER promises one-handed operation while protecting against rain, bumps, and dust.


COSYSPEED says that while the bag was originally designed for mirrorless cameras, it can also comfortably fit small or mid-sized DSLRs and superzooms. The bag can be worn at your hip or over you shoulder like a traditional sling strap.
Promising fast access to your gear, the CAMSLINGER is being marketed towards street, travel, family, outdoor, and wedding photographers, as well as journalists.
The bag can rest comfortably on your thigh thanks to the unit's lower carrying position that removes the weight from your hip. Just undo the metal latch with a single hand and pull out your camera to start shooting.
When your camera is ready to be stored away, the unit uses water-resistant Nylon D600 material and robust PE plates to keep everything safe. In the meantime, soft inner fabric protects your gear from scratches.
If it begins raining, you can use the included rain cover for an extra level of safety.
Included with the CAMSLINGER is the COSYSPEED FINGERCAMSTRAP; this free accessory allows you to quickly grip your camera and avoid dropping it during use.
The CAMSLINGER can be backed on IndieGoGo for $55 plus customs fees from Germany. Your purchase will give you the choice between blue or khaki bag colors.
Here's a short promo video showing how the CAMSLINGER Streetomatic is used:
Production for the CAMSLINGER is expected to begin this October with backers receiving their first-run bags in January 2016. COSYSPEED has said that the accessory will start going out to distributors in February, meaning that you may be able to pick up a CAMSLINGER from camera shops in early 2016.