This Talented Street Photographer Spent Two Months at a Swimming Pool in Prague
Earlier this year, Czech Republic-based street photographer Rishabh Kaul was hired to document the Podoli Public Swimming Pool in Prague. Over the course of two months, that single swimming pool became the focus of Kaul's camera as he applied his keen eye for framing and storytelling.


The commissioned project was for an entry in the renowned Prague Quadrennial by ProHelvetia, a leading Swiss Arts Council.
"I documented the swimming pool as a social ecosystem where swimming is just one of the many stories being played out," Kaul tells PetaPixel. "My job was to simply show the everyday scenes that play out at the pool."
"Easier said than done."
At first, he didn't shoot very much. Instead, he just paid attention to the lighting and what was being illuminated.
"It slowly became clear that swimming is just a small part of what really goes on here," Kaul says. "It's more of a social ecosystem where daily stories play out on a wet stage."
"Athletes, sun-bathers, social butterflies, lovers, loners, friends, families – all gather in this public space with different agendas. Some of them spend the whole day in the adding park without ever dipping their feet in water."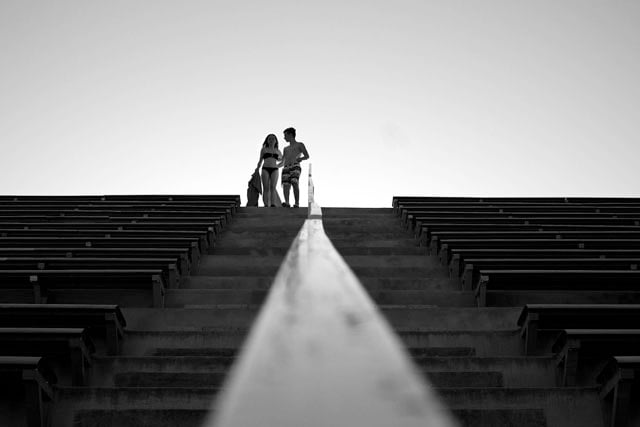 The people at the pool became Kaul's actors, and the pool his stage. Many of the photos capture the interesting interactions that occurred.
For others, Kaul focused on capturing beautiful moments while paying careful attention to light, shadows, and framing:
"The exhibition was very well-received and the pool management now intends to exhibit these at the pool itself," Kaul says.
The project is titled "Wet Paradise," and can be viewed over on Kaul's website (there are quite a few more photos in the series).
---
Image credits: Photographs by Rishabh Kaul and used with permission