Rejected Shots from Princess Diana's Wedding Photo Album Up for Auction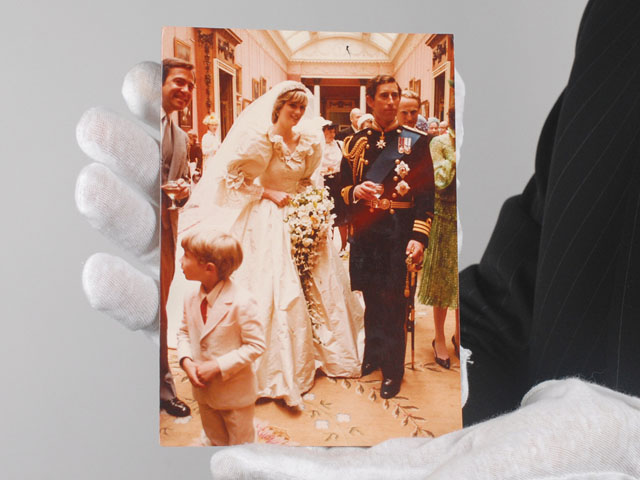 When Prince Charles and Lady Diana Spencer got married on July 29th, 1981, an estimated 750 million people around the world tuned in to watch, making it one of the most-viewed weddings in history. Now previously unseen photos from that wedding day have emerged, and they're set to fetch a pretty penny at auction.

A collection of 14 candid shots by official photographer Lord Patrick Lichfield have turned up in a new auction hosted by Remarkable Rarities Auction. They show the royal family celebrating the "fairy tale" wedding at Buckingham Palace, mingling with guests, and standing before a giant crowd gathered outside.
RR Auction reports that the photos come from a collection of Lichfield's assistant, who was the only photographer allowed to take informal photos at the reception. After being tasked with putting together an official photo album for Prince Charles and Princess Diana, the assistant ended up not including these 14 original prints. Lichfield allowed the assistant to keep the shots as a memento from that day.
"To my knowledge, none have ever been published," says the anonymous assistant. "Very few people have ever laid eyes on them." Here's what rejected royal wedding photos look like:
The collection contains seven black-and-white 8×10 photos, seven color 5×7 shot, and the original pass used by the assistant for access at Buckingham Palace. Bidding will start at $300 on September 17th and the auction will end on September 24th. The pre-auction estimate for the collection is currently between $1,000 and $2,000, but the final price could end up being much higher. Keep your eyes on RR Auction if you're interested in owning this set of photos for yourself.
---
Image credits: Photographs by Remarkable Rarities Auction