An Interview with Selfie Stick Inventor Wayne Fromm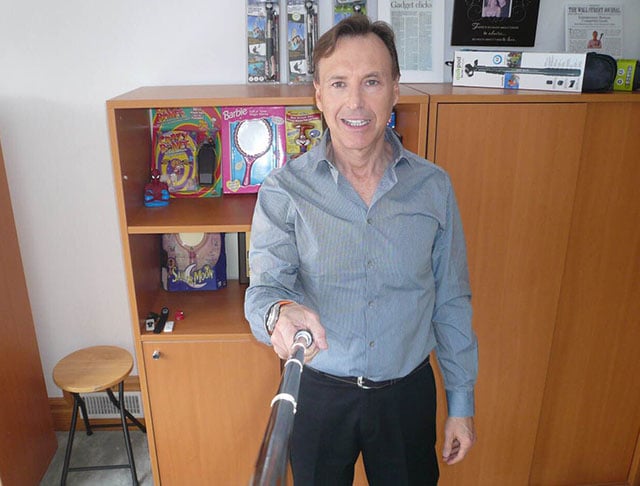 Wayne Fromm is a Canadian inventor who's widely recognized as being one of the main inventors of the selfie stick (with the other being Hiroshi Ueda of Japan). Fromm holds original patents for selfie sticks created for compact cameras and smartphones, and he current sells selfie sticks through his Quik Pod brand.
In this interview, we spoke to him about his involvement in (and thoughts about) the selfie stick boom:

PetaPixel: Can you tell us about yourself and your background?
Wayne Fromm: I live in Toronto, Ontario (Canada). I have been an inventor and entrepreneur for most of my life. More than 25 years ago I invented the world's first talking toy that had original actors voices, Disney's Beauty and the Beast Magic Talking Mirror. My hobbies/interests include photography, magic, yoga and philosophy. www.frommworks.com
How did you first get the idea for the selfie stick?
I was traveling in Italy, on the Ponte Veccio, and grew tired of asking strangers to take a photo of me and my daughter. I envisioned a retractable monopod that was lightweight, had a ball joint for adjustment, would not spin on its axis, was waterproof and would go through airport security.
What's your personal interest and involvement in photography?
Since I was seven years old I've been fascinated with photography. I used to develop my own film, print contact sheets, got an enlarger, experimented with special effects, movies and moved into digital with the original Sony Mavica that came out around 1990. I had old video cams that were black & white back in the 80's. My first camera was a Kodak and as a teen I bought a used steel body Nikon low end Nikkorex. I also had a lot of Polaroids including the Swinger and different versions of the SX-70.
Can you tell us about the process of inventing and prototyping your original selfie stick? How many iterations did you go through? Do you have any photos of the original prototypes?
It's a long process, more than 100 prototypes, trips back and forth to China, lots of obstacles. My design was much more sophisticated than the commodity selfie stick that is in the open market. I create products that people will own and use for 20 years or more, that is my quality standard. Each pin, spring, rod, gear, thread, grip, etc has to meet exacting standards to meet the challenges of extreme users. Quik Pod products are the iPhone of selfie sticks.
How many patents do you currently own? Do you own a patent for the selfie stick?
There are patents in many countries, I do not have an accurate count. Yes, there are two patents on the selfie sticks that I invented. U.S. patents can be searched online at uspto.gov.
How many selfie sticks do you personally own right now?
I use the Quik Pod Explorer 3, Quik Pod SPORT and Quik Pod ULTRA.
Have you had to take legal action again patent infringers?
My company does not disclose information about legal action that is not available publicly.
Did you expect the selfie stick boom to take off the way it has over the past few years? What factors do you think led to the craze?
I never expected it. I saw it brewing and knew that Alibaba was stealing my trademark, images and designs but this goes back many years. It's like anything, good things take time. A company like Apple can throw millions of dollars into marketing, the selfie stick had to grow organically.
While some love selfie sticks, others absolutely hate it. Why do you think the idea of a selfie stick is so polarizing to people?
If it was used as I had intended, to allow the photographer to be included with friends and families, there would be greater acceptance. The original, Quik Pod, also converts into a ground supported monopod to facilitate slow shutter speeds and no strobe. This protects frescoes and other objects of art. The average person only sees a person taking their own photo at the expense of the safety of others in crowded areas.
What are you thoughts on the fact that the selfie stick is being banned in more and more venues these days?
I agree with the bans if it protects people. No one is capable of holding on to a selfie stick in the middle of a roller coaster, it would become a trajectory or at the very least hit people in the car. We can not legislate common sense so rules are required. I always warned people not to use the Quik Pod in crowded areas. I do hope, however, that Quik Pod products that are also ground supported monopods, and general ground supported monopods, are not banned in museums and art galleries.
How big is Quik Pod as a company at the present time? How many employees does the company have?
It is part of Fromm Works, more than 300 workers overseas.
Do you know what market share Quik Pod currently has in the selfie stick business?
I do not know.
Do you see any new trends emerging in the world of selfie sticks?
Until I bring innovation to the industry I suspect the overseas makers will just continue to change colors, add lights, cosmetic and mindless details.
Is there anything else you'd like to say to our readers?
Enjoy taking photos and videos, watch for the next big thing from Quik Pod at CES 2015!