Panasonic Made a New 3D Photo Booth with 120 GH4 Cameras Worth $180K
Panasonic has built a new 3D photo booth over in Japan that uses 120 Lumix GH4 cameras arranged around a circular room. The GH4 has a price tag of $1,500, so this new photo booth has a retail cost of $180,000 for just the cameras alone.


The booth can be found at the Panasonic Center in Osaka, Japan, offers a service that's similar to a Japanese 3D sculpture studio we featured back in 2012, except Panasonic uses a circular array of cameras rather than a special 3D scanner.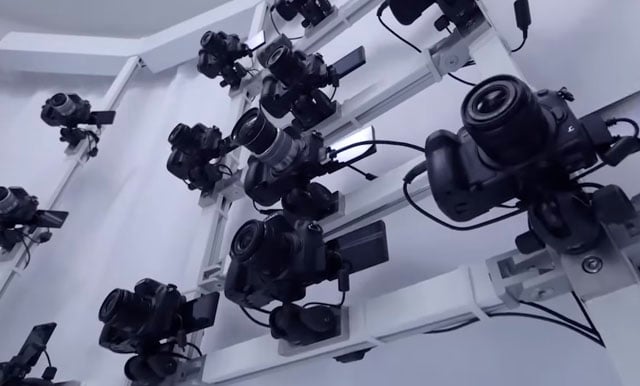 DPReview reports that what sets Panasonic's photo booth apart from other similar projects out there is the fact that the 360-view is captured in just 1/1000 of a second, allowing the sculpture to show action poses of people in motion.
The 2 gigapixels of image information from the 120 cameras are then loaded into special software that allows the subject(s) to be viewed from any direction. You can also pay about $450 to have the data turned into a small plaster figurine that you can take home with you.
Here's a short video Panasonic released that offers a glimpse into this photo booth (it's in Japanese):