This Website Can Identify the Bird Species in a Photo
If you're interested at all in bird watching and photography, Merlin Bird Photo ID is a website you should add to your bookmarks. It's a new website that can help you identify the species of the bird in your photograph.


The site was created as a collaboration between Cornell and the Visipedia project, and is currently capable of recognizing about 400 of the most commonly encountered birds in the United States and Canada.
In terms of accuracy, the service is currently able to suggest the correct bird species in the top 3 results about 90% of the time, and it will only get better as more and more people use the service.
By using the service, photographers are actually helping to train and improve it as well. As part of the process, you're asking to draw a box around the bird and click on the bill, eye, and tail. The Merlin system can then crank out its best guesses using artificial intelligence in just a few seconds.
We tested the service with a photo of a house sparrow, and the results were spot on: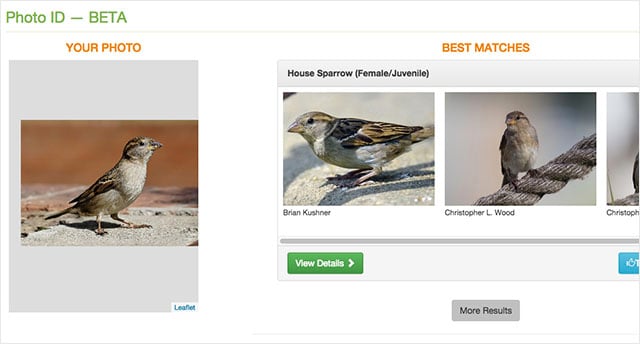 Once the system is polished enough, the team behind it is planning to add the technology to the Merlin Bird ID app for smartphones to help identify bird photos on the go.
---
Image credits: Header photograph by Cornell/Christopher L. Wood, and house sparrow photo by Fir0002