Bird Buddy's Latest Feeder Cam Uses AI to Capture Close-Up Bird Photos
Bird Buddy is a camera-equipped bird feeder that uses artificial intelligence (AI) to automatically deliver close-up photos of feathered visitors straight to a user's connected smartphone. Bird Buddy is expanding its offerings with a new smart hummingbird feeder and smart bird bath.
As Gizmodo reports, the new products, which debuted on Kickstarter, expand upon the original Bird Buddy smart feeder with a reservoir to store and dispense hummingbird's food of choice, sugary liquid.
Like the original Smart Bird Feeder, the Smart Hummingbird Feeder and Smart Bird Bath utilize AI to identify birds that come to the feeder or bath and catalog individuals in the companion app. Bird Buddy promises its AI technology can recognize over 700 species and is adding new species regularly.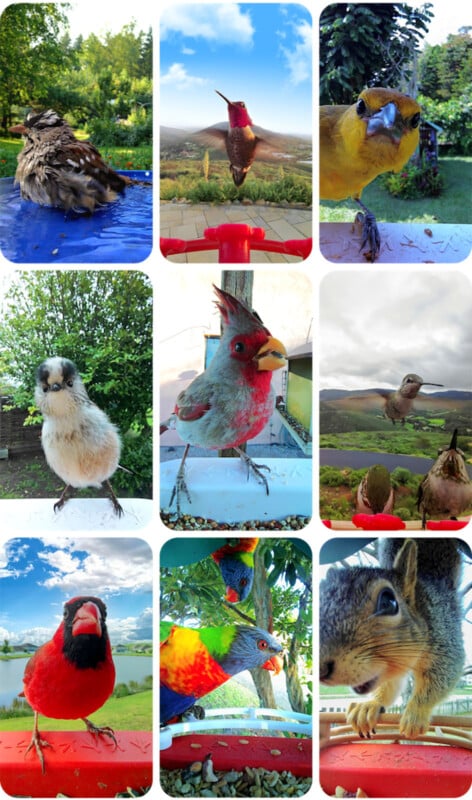 Users can also tune into a live network of thousands of Bird Buddy smart bird feeders worldwide to see what other users are spotting.
The device also uses AI to capture "only the best shots," the company claims. Every Bird Buddy product works alongside an optional solar roof panel to recharge the device, and the camera module, which is removable for cleaning, sports a 5-megapixel image sensor, 120-degree field of view, built-in microphone, and Full HD video recording capabilities.
As for the Smart Bird Bath, it "provides a safe source of clean water for all kinds of animals" and has a solar-powered pump that keeps the water in the bath moving, ensuring it doesn't get stagnant, which helps prevent algae growth.

AI-powered bird feeding is somewhat pricey. Kickstarter's "Super Early Bird" backing option offers the Smart Hummingbird Feeder for $174, while the Smart Bird Bath starts at $184. For $259, users can buy the Summer Birding Bundle which includes the Smart Hummingbird Feeder, Smart Bird Bath, and a single camera module.
The Bird Buddy Smart Hummingbird Feeder and Smart Bird Bath are expected to begin shipping in March 2024. Comprehensive specifications and different backing options are outlined on Kickstarter.
The original Bird Buddy Smart Bird Feeder is available directly from Bird Buddy for $199 with a 20% discount. The feeder with the solar roof is $269.
---
Disclaimer: Make sure you do your own research into any crowdfunding project you're considering backing. While we aim to only share legitimate and trustworthy campaigns, there's always a real chance that you can lose your money when backing any crowdfunded project.
Image credits: Bird Buddy