From the Streets to the Gym: Photographing ex-Gang Members Lifting Weights
Ever since I photographed basketball in Rwanda, I have been fascinated and almost obsessed with ways sport and fitness can improve culture and society. In particular, my fascination has revolved around impoverished regions. Last June, in Rwanda, where genocide, poverty, and disease devastated the small country and, a few months ago, in the Boston neighborhood of Dorchester.

The streets of Dorchester account for a huge amount of the violence in Boston where only 1% of young people account for 70% of the violence in the city. Surprisingly, the city I have lived in for 3 years and where I have called home for my entire life averages 1 shooting every 1.1 days and has a violent crime rate 123.8% higher than the national average.
These stats, which I had no knowledge of before this photo series, baffled me. So when I got a call from a long time client of mine, ReebokONE, to photograph a series for them about a fitness instructor training program, InnerCity Weightlifting, which has proven to decrease violence and arrest rates in their members, I jumped all over the opportunity. The result is one of my favorite photo series to date.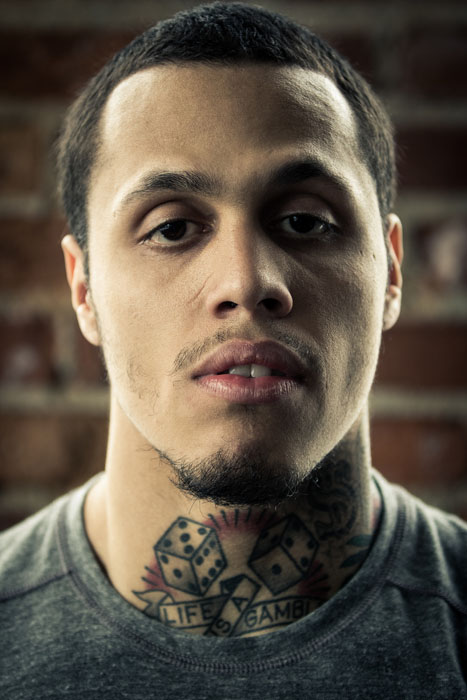 It was intimidating to ask the men in the photos, many of whom have been shot or shot others, to stand 6 inches away from my lens while I snap off a portrait. The intimidation was a product of my ignorance that quickly dissipated. In the end, just like every shoot I have been involved with, the subjects are human just like me and once again showed nothing but respect and kindness towards me and the art of photography. They are all a true inspiration that I will always carry with me.
---
About the author: Chris Cardoza is a photographer based in Boston, Massachusetts. He has photographed for Adidas, Reebok, Spaulding, and ESPN. You can find more of his work and writing on his website and blog. This article originally appeared here.