How To Protect Your Rights As a Photographer in the Modern World
In today's society, it seems that no knowledge is more prudent for photographers to learn than the rights of themselves and their photographs. Here at PetaPixel, we wanted to create a comprehensive one-stop guide to your constitutional rights to capture the world around you and what you are permitted to do with those photos.

Disclaimer: This article is aimed at photographers within the United States; international laws may vary. The information within this piece is not intended to be legal advice. Please consult with a local attorney for more information. Please note the date of this article's publication as new laws and regulations may have been introduced since then.
The Photographer's Rights
According to the American Civil Liberties Union, there are five major bullet points noting the rights of photographers in the United States and they are as follows:
When in public spaces where you are lawfully present you have the right to photograph anything that is in plain view.
When you are on private property, the property owner may set rules about the taking of photographs.
Police officers may not confiscate or demand to view your digital photographs or video without a warrant.
Police may not delete your photographs or videos under any circumstances.
Police officers may legitimately order citizens to cease activities that are truly interfering with legitimate law enforcement operations.
There are exceptions to above rules, but, in general, you have the constitutional right to take photographs in a public place. Exceptions may include military installations, which are banned to protect national security. In many areas, pictures of nuclear facilities are also prohibited by the Department of Energy. So be careful and aware of your surroundings when shooting.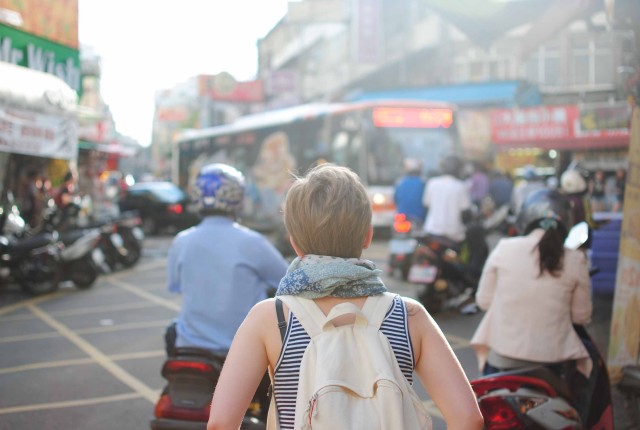 According to attorney at law, Bert P. Kages II, Despite common misconception, the following subjects can be photographed: accidents, children, celebrities, bridges, residential and public buildings, industrial facilities and public utilities, transportation facilities, Superfund sites, criminal activities, and law officers. So feel free to snap those pictures without fear!
If you are asked to leave private property, you may continue taking photographs of the property from a public location. It should be noted that there are exceptions of privacy, which include not photographing individuals in dressings rooms, restrooms, medical facilities, and within their homes. Some states, such as California, restrict the use of telephoto lenses, which may be used to invade someone's privacy.
Protecting Your Rights
If the situation arises in which a police officer begins to question your actions, first make sure that you are in a public space and not photographing any restricted items of national security as mentioned above. Remember that an officer may not take your film, memory card, or camera unless they are making an arrest.
If approached, the best attitude is always to remain polite and never physically resist an officer. The ACLU notes that you should ask the officer, who has stopped you whether or not you are free to go. Your decision to stop and speak to the officer is voluntary before this question is asked. At this point, the officer can only detain you if they suspect that you are about to commit a crime, have committed a crime, or are in the process of committing a crime.
If the officer does decide to detain you, be sure to ask for what crime you are being charged. Kindly remind the officer that your right to photograph is protected by the first amendment. You have the right to take photographs, and the first amendment helps to protect your photo-snapping hobby.
If you feel that you have been harassed during an altercation be sure to ask for the person's name and the name of their employer. You may request a police officer's badge number; some states including New York require law enforcement to showcase a badge or label for identification.
The number one key to remember is to be polite and ask if you are being detained. The officer may not confiscate your equipment unless you are suspected of a crime. The first amendment is your friend in this situation!
Needing a Release Form
While you are free to take pictures in many situations, you are not always free to use the images in any way you see fit. Depending on what you have photographed, you may or may not need a model and/or property release form. Depending on whether or not you have a release denotes your usage of photographs for commercial and advertising purposes.
According to the American Society of Media Photographers, a model release form is only needed if a person is recognizable within a photograph that is going to be used for an advertisement or commercial purposes. It is noted that it can be very easy to show in court that a person is recognizable, so be sure to stay on the safe side – if you think the person could be recognized, then they can be.
Use these three questions to determine if you need a model release form:
Could the person in the photograph be recognized by anyone? If no, then you can stop here without needing a model release form.
Is the photograph to be used for an advertisement? If so and the person is identifiable, a model release is required.
Is the photograph going to be used for commercial purposes? If so and the person is identifiable, a model release is required.
If you intend on using the photograph for commercial and advertising purposes, you are going to need a model release form – one can be obtained from the ASMP by clicking here. Note that most states require the person signing to be 18 years of age or older. If your subject is under 18 years old, you will need the signature of at least one parent or legal guardian.
Certain properties may also require a property release form. The following three questions will help you to determine if you need a property release:
Could the owner of the property in the photograph be identified by anyone just by looking at the photograph of the property? If no, then you can stop here without needing a property release form.
Is the photograph to be used for an advertisement? If so and the property is identifiable, a property release is required.
Is the photograph going to be used for commercial purposes? If so and the property is identifiable, a property release is required.
Editorial and Expressive Work
Some photographs can be used and distributed without release forms, but they are limited in usage. The first type of content is photographs for editorial use. According to iStockPhoto, editorial images are defined as an image that may "illustrate and reflect the issues, themes, and events of our world today". Editorial images may not be used to sell anything – they are "non-commercial and non-promotional".
It is important to note that a release form is recommended for a "subject matter that may be sensitive or controversial". Also, permission is required if a person is photographed in a way that suggests they may be advocating or sponsoring a product or service.
Examples where editorial images may be used includes newspapers, magazine articles, in a book or text, on a blog or website, and in a film or video documentary. Editorial images may not be used for commercial material, on commercial websites, for product packaging, or in television commercials. So don't think you will be able to run outside and steal some snaps for your business.
In an interview Photo District News conducted with Nancy Wolff, a partner at Cowan, DeBaetsm Abrahams & Sheppard, in New York City, the lawyer outlined more details about what determines commercial usage of a photograph. She notes that the "act of selling something by itself is not a commercial act that requires a release". For example, when sending an editorial image to the New York Times, they are making money off of the photograph, but there is a "relationship between the photograph and a truthful news or public interest story".
In addition, it is entirely legal to sell fine-art prints without a model release as it is protected under the first amendment's freedom of expression and freedom of speech – "visual images are part of speech and they're also an expressive work of a photographer". Wolff notes that within the United States "freedom of expression outweighs privacy concerns when it comes to the use of images for editorial use and expressive uses."
As a photographer and a human being, you have the right to capture the world around you with your camera. Be sure to use the above advice when shooting, but remember that this article is not a substitution for legal counsel. We recommend contacting a local lawyer for more information and detailed regulations within your state. Stay Safe and have fun!