Review: Wideshow for iOS Delivers Slideshows for the Modern Era
Forcing your family and friends to sit down and relive memories via a slideshow has been a popular option since Kodak patented the first Slide Projector in 1965. However, since the turn of the century, digital photography has taken off, and the once familiar clicking sound of carousel units are nowhere to be heard. Instead, here comes 'Wideshow', an iOS app designed to help you view your standard 4:3 images on the large widescreen with added benefits.

Wideshow allows iOS users to take advantage of AirPlay and broadcast their mobile photo library to supporting devices. As of now, the Apple TV is the most popular option that supports AirPlay, but other devices can be made compatible including Amazon's Fire TV and most PC, Mac, and Linux machines.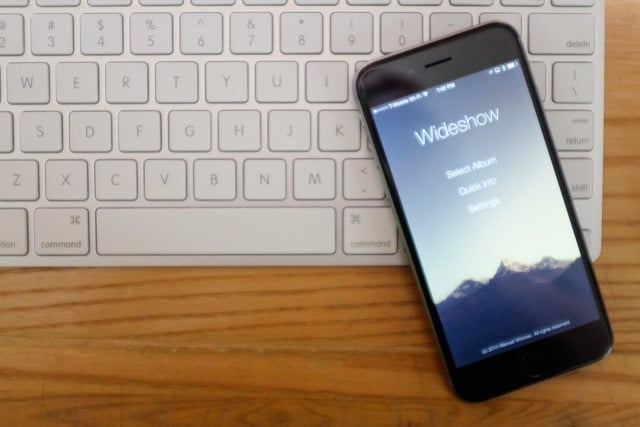 The application promises to fix the problem of viewing photographs on modern televisions. The designer, Manuel Vrhovac, points out that we put "so much energy and money today into how to take better photos, yet no one took the time to improve the experience of actually viewing them".  Wideshow is here to display your photographs in their natural ratio while also making use of the typically black and empty remaining 25% of the screen.
Wideshow showcases a map of where the photograph was taken and can also show you the next upcoming image in a series. Users can also add their own music to the slideshow for a more personalized experience.
We went ahead and downloaded the application to an iPhone 6 device to test it out. For streaming, we didn't have an Apple TV, so we set up one of our Mac computers with AirServer – an application that allows users to AirPlay content – and then plugged it into the big screen.
Setting up the application is quite easy. Just swipe up to expose your iOS device's Control Center, then select the 'AirPlay' option. Note that for AirPlay to show in Control Center, you must have a supported device on your network. Next, we selected the device we wanted to stream content to from our handheld.
While selecting content to play, the television showcases the 'Wideshow' logo screen. If we decide to stream an album set without adjusting settings, the application will display each photograph for five seconds while also showing the next upcoming picture in the upper right-hand portion of the screen. The format is quite beautiful and a wonderful way to showcase your favorite photos with family and friends.
If you decide to venture into the settings of the application, you can adjust the number of seconds each photo is showcased, along with whether the upcoming photo is to be displayed, and much more. Wideshow presents a beautiful number of options for making your experience exactly how you would like to view it.
While your photographs are playing on the big screen, your iOS device will act as a remote, allowing you to skip forward or back, play/pause, and adjust other settings on the fly. All great options when grandma wants to view that adorable photograph of you for a full minute.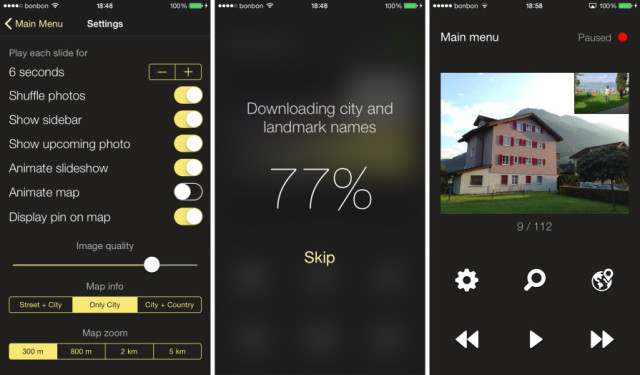 Overall, the application is simple, yet effective. The design of Wideshow showcases attention to user interface design and is a joy to use with your favorite photographs. The only issue that we had is a problem of Apple and not one of Wideshow precisely; since most of our library was stored in iCloud's Photo Library, it was not available to play through the application itself. Otherwise, the application works exactly as expected and was very stable during our testing.
Wideshow can be obtained from the Apple App Store for $2. If you are someone who only occasionally uses AirPlay to showcase a photograph, then Apple's slideshow option might be good enough. However, if you are a slideshow addict and want to display your photos in style, then Wideshow might just be an excellent option.
To obtain Wideshow for yourself, check out the App Store for iOS by clicking here.
---
Full disclosure: Wideshow provided a free copy of the application that was used for the purposes of this review.