Shooting Free Portraits on the Streets of SF for Twelve Hours Straight
On Saturday, April 11, 2015, I stood on Valencia Street in San Francisco for 12 hours and offered free portraits to anyone that passed by. I'll share a little about what the experience was like.

At 9am, I placed my tripod in front of the Mission Playground, ready to start. I hung a banner next to me, simply stating "Facing San Francisco: Free Portraits." My first portrait was of a friend who was helping me get started. We both stood and watched as the kids played soccer across the playground from us.
A woman approached me with her young son, and he climbed on her shoulders as they both cheered in excitement about the prospect of being photographed. I handed them a card with the website address so they could find their portraits in the days to come. They came back an hour later, and, much to my delight, the boy blew bubbles into my camera.
The next few hours passed similarly: I offered free portraits as different people walked by, and almost everyone said yes, not needing much persuasion. Dogs, friends, couples, families. Cornrows, sunglasses, fur, gym clothes. Everyone seemed excited to be involved in showing the world what a day people-watching in the Mission might look like.
A few friends stopped by. Some people had heard about my event through FunCheapSF and came specifically looking for me.
There was a lunchtime lull, then it picked up again. Some strangers stuck around and told me about their public art ideas. One man with an accent started a website interviewing people through words and images. A woman with a camera took photos of me for her art school project. Several people came back for more photos with different sets of friends. There was a birthday celebration, a scavenger hunt, a family outing. Every person showed appreciation for my idea.
Women worried about how they looked. "Will my wrinkles show up? Please hide my gut. Should I keep my sunglasses on? It's so sunny. I'm so squinty. I'm not dressed right." Men worried in their own way. "What should I do? I don't want to smile. I don't want to be in the photo alone." I assured every one of them that they are perfect exactly as they are. My only agenda was to photograph people. People look different, act different, are different from one another, but every person is an individual – interesting and wonderful.
As the sun went down and evening set in, less people were willing to stop and participate, but this wasn't surprising. I had been on my feet for 10 hours at this point, and didn't mind that things were slowing down. The last portrait I took was of the same friend from the beginning of the day who happened to be at a bar nearby and stopped to see how I was doing. A perfect full circle to end the day.
At 9pm, I packed up my camera, tripod, and stool, and set off for home. Within the next days after I posted the portraits, I saw an outpouring of appreciation via social media. People posted their portraits and thanked me for the project. I thanked them for taking a step out of their ordinary day and participating in something different.
I was honestly surprised and humbled by how many passerby were willing to put their trust into a stranger. 476 people, babies, and dogs agreed to let me take their portrait, without knowing who I was.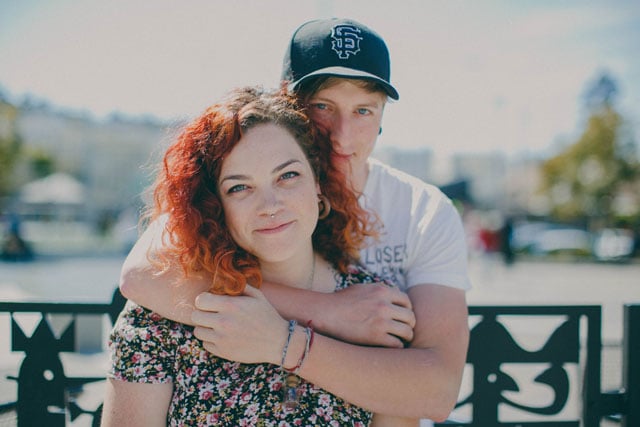 You can find the entire collection of portraits over at Facing San Francisco.
---
About the author: Julia O Test is a freelance photographer living and working in San Francisco. Her style is editorial, showing the authenticity in a situation and shooting on-location. Making people feel beautiful is her passion, and her professional but relaxed demeanor makes it easy for anyone to blossom in front of her lens. You can connect with her through her website.