The First Ever Phantom 4K 1000FPS Drone Footage
Crashing and destroying your drone is painful on your wallet, but it's not usually the cost of a house. The video above is different. It's documents the first ever drone flight to involve a Phantom 4K camera mounted to an Aerigon UAV.
"The title of this will either be 'The most technical advanced drone camera flight of all time,' or 'The quarter-million-dollar crash'," says one team member.

The project was done by the Brain Farm Cinema team based out of Jackson, Wyoming.
The Phantom Flex 4K weighs 14 pounds without a lens or viewfinder attached, so it's far too heavy to be carried by most of the popular drones used by casual photographers and filmmakers. By partnering with the drone manufacturer Intuitive Aerial, however, the team was able to put together an Aerigon that was up to the task. It's a combination that's a "cinematic game changer," they write.
Using the camera and drone combo, Brain Farm captured super slow motion shots of a truck driving through puddles in rugged terrain.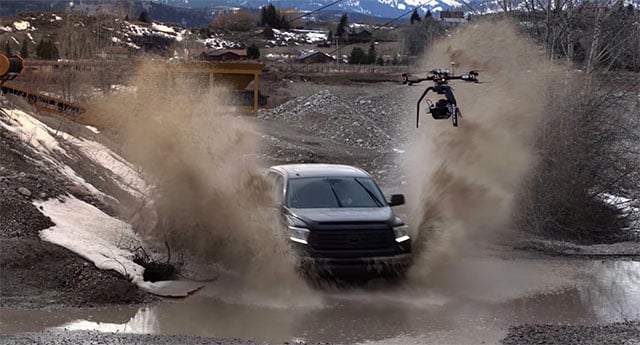 "The result is what you see here: The world's first aerial footage shot from a UAV with a Phantom Flex4k," writes Brain Farm. "The world of options this technological combination will open up is about to break the ceiling of possibility in digital cinematic storytelling."
(via Brain Farm via Engadget)