Nikon 1 J5 Unveiled: Blazing Fast Shooting Speeds and 4K Video Recording… Kinda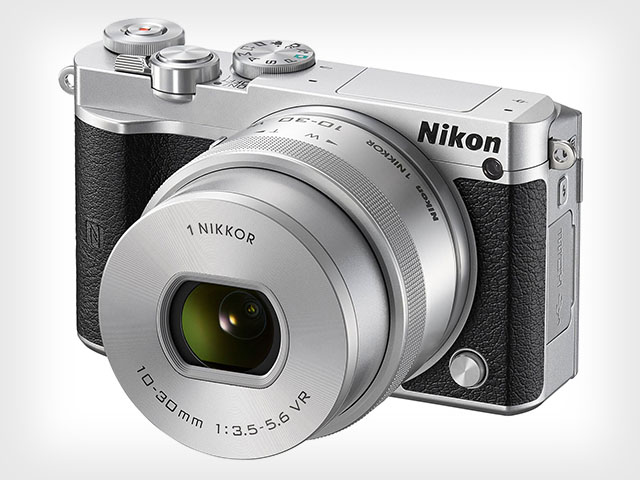 Nikon has just officially announced its new Nikon 1 J5 mirrorless camera. It's a camera that offers "4K video recording" and some blazing fast continuous shooting in a compact package.


Inside the camera is a 1-inch 20.8 megapixel BSI CMOS sensor that eschews an anti-aliasing filter for sharper photos at the cost of more moire effects in certain situations. ISO ranges from 160-12,800.
There's also a hybrid autofocus system with 171 contrast-detect points and 105 phase-detect points. This autofocus comes in handy when shooting with the camera's 20 frame per second continuous shooting speed (with full AF). Fix the autofocus after the first shot, and the camera will shoot at a blazing 60 frames per second, a speed "not even a pro DSLR camera can match," says Nikon executive Masahiro Horie.
A new "Sports Mode" in the camera is geared specifically towards capturing the correct focus when shooting things like photo finishes at races or buzzer beaters in other sports. Nikon also claims that the camera has the world's shortest shutter lag for its class.
Outside of the camera, you'll find manual controls and PSAM exposure modes that can be accessed via the mode dial. A separate command dial lets you change settings quickly while you're shooting. There's a programmable function button that can help you access your most-used functions (e.g. ISO or white balance) with one press.
On the back, you'll find a 3-inch touch screen LCD with 1.04 million dots and the ability to tilt 180 degrees (it's great for self portraits, Nikon says). A special Self-Portrait Mode can help make you look beautiful by softening your skin and giving you self-time and exposure compensation controls through the touchscreen.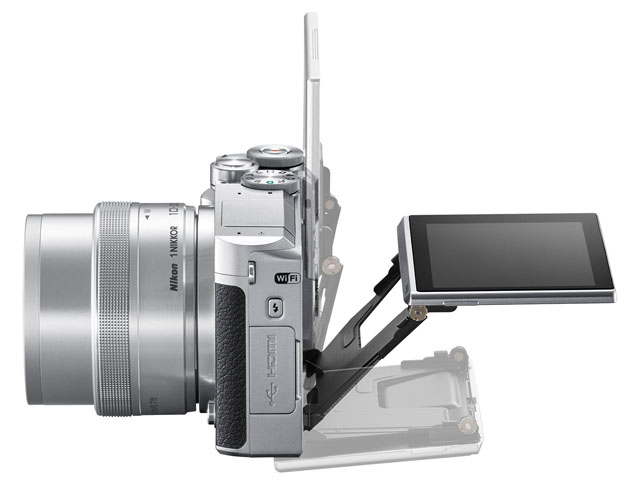 On the video recording side, the camera does shoot 4K video. That's the upside. The downside is that it can only capture 4K at 15fps — a frame rate that will be largely unusable for serious purposes. It's designed for "those who want to experiment with higher resolution video clips," Nikon says.
At lower resolutions, the camera can do 1080/60p, as well as 120fps slow motion at 720p. If you want to shoot time-lapses, a special Time-Lapse Movie mode helps you capture up to 300 photos and play them back in 10 seconds. There's also an internal intervalometer if you'd like to put together time-lapse photos yourself afterward.
Finally, the camera also packs Wi-Fi and NFC for wirelessly connecting your camera to other smart devices.
The Nikon 1 J5 will be available in silver/black, silver/white, and all black flavors starting at the end of April. It will cost $500 when bundled with a 10-30mm f/3.5-5.6 lens, $750 with the 10-30mm and an additional 30-110mm f/3.8-5.6 lens, and $1,050 when bundled with a 10-100mm f/4-5.6 lens. You can preorder the camera here.