Priime: An iOS Photo Editing App with a Marketplace for Filters by Photographers
Photo editing apps for smartphones are a dime a dozen these days, but today there's a new one that hopes to stand above its competitors with a couple of innovative filter-centric features. It's called Priime, and is a free app for the iPhone (and iPod Touch) that's currently being featured as a "best new app" in Apple's App Store.

Like many of the popular editing apps out there, Priime offers filters as a way for mobile photographers to apply looks to their images with a tap of the finger. The app goes beyond apps like Instagram, however, with features such as filter suggestions and a filter marketplace.
For each photo being edited with the app, Priime will analyze its properties — things like color palette and dynamic range — and then suggest a certain style to apply as a photo filter. Pre-made filters offered by the app are highly curated looks that were designed in collaboration with well known photographers from around the world.
In addition to the free starter styles that come with the app, an extensive collection of filters is available for purchase and download through the app's marketplace, where users can browse through the looks developed by photographers and choose the ones they'd like to own.
Over 30 photographers contributed an initial set of premium styles for the app's launch. Each look costs $0.99, and the revenue will be shared with the photographers who developed each one.
Photos can also be fine tuned with a suite of editing tools that include adjustments such as brightness, structure, contrast, warmth, tint, saturation, sharpness, highlights/shadows, vignette, and fade. Make a mistake and need to revert? The History tool offers visual undo with a full history of all your edits.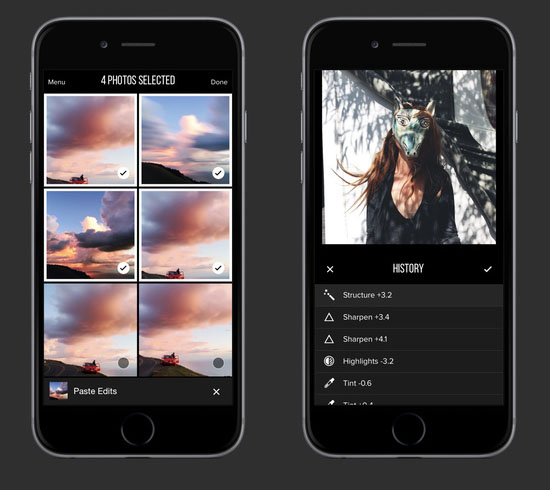 Edits made to photos can also be copied and pasted to a batch of photos for high volume editing. Once you finish processing a photo, it can be saved non-destructively at maximum resolution — even 36 megapixels or higher.
Priime is only available for iOS at the moment (Android is on the company's roadmap) and can be downloaded for free from the App Store.