EliteDaily Sued by Photographer for Sharing Photos in Blog Post Without Permission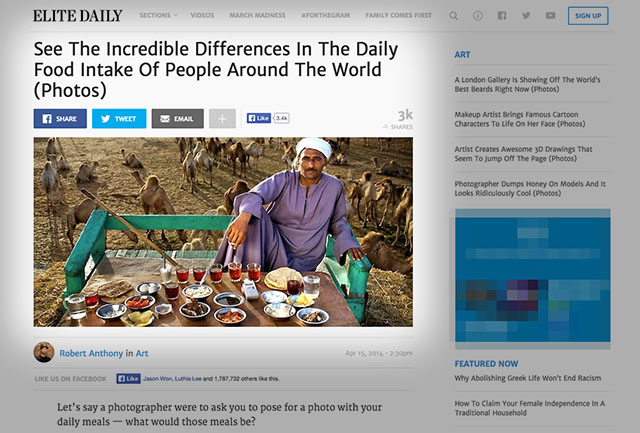 In an age in which pageviews are supreme, blogs and other online publications often ignore copyright laws, publishing viral photographs without permission in order to attract clicks and eyeballs. While much of the time this type of behavior flies under the radar, sometimes the unethical behavior comes back to bite the publishers hard when photographers do notice and take action.
Here's one of the latest examples: photojournalist Peter Menzel has filed a lawsuit against the blog EliteDaily for sharing his photos in a viral post without permission.

The article
was published back on April 15th, 2014, and is titled "See The Incredible Differences In The Daily Food Intake Of People Around The World (Photos)." It contains 30 photos taken from Menzel's photobook
What I Eat: Around the World in 80 Diets
, which features 80 portraits and profiles of people and their meals from 30 countries around the world.
EliteDaily is a blog that rode waves of traffic to success with BuzzFeed-style strategies. After growing into one of the world's top 1000 websites by focusing on viral stories, the site was acquired by UK-based Daily Mail earlier this year for a reported $47 million.
In his newly filed lawsuit, Menzel accuses the blog of not only publishing his photos without permission, but also cropping a copyright notice from the lead image and stating that the photos were "courtesy" of Menzel even though he had not given consent.
American Photo magazine shares this statement from Menzel about his work and copyright:
As a freelance photojournalist that self-funds his own hugely expensive multi-year global projects, my team chooses those projects carefully, copyright the images and text, and then works very hard after publication to recoup the considerable expense. One of the chief ways we do this is to license the images and writings for print and web. We charge a licensing fee for feature stories and large portfolios—whether in print or online. Use of our copyrighted intellectual property without permission guts the value of our work, greatly diminishing our ability to finance our project debts, and endangers our ability to undertake future projects.
Even the very front page of Menzel's website contains a copyright notice. "As you browse, please remember that none of these photographs are within the public domain," the photographer writes. "They are protected under domestic and international copyright laws and cannot be used without permission." He goes on to lay out his terms in "terrifying" detail on a dedicated copyright info page.
The infringing post by EliteDaily has pulled a good amount of traffic over the past 11 months since it was published, attracting over 3,400 shares through Facebook alone.