A 324-Key Keyboard Dedicated to Lightroom Editing
It was around this time last year that we shared a new product called SHORTCUT-S, a 319-key keyboard designed specifically for editing photos in Photoshop.
Creatives soon began asking the company to branch out into other popular programs, and today the company is doing just that. SHORTCUT-S tells us that it will soon be launching dedicated keyboards for 13 other programs, one of which is Adobe Lightroom.


The special Lightroom keyboard is a giant slate that measures 15.3×11.7 inches and a quarter of an inch thick. It connects to your computer via USB and is compatible with any existing version of Lightroom on both Windows and Mac.
The surface of the keyboard is covered with 320 colorful function keys that are mapped to specific tools, settings, and commands in Adobe Lightroom. There are also 4 fully customizable keys that you can map to anything you'd like.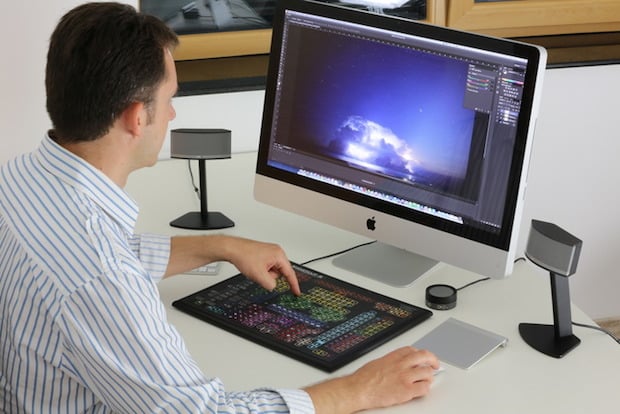 By placing commonly used features and functions under single buttons that can be pressed with one finger, the keyboard is designed to greatly simplify and speed up the process of working on photographs in Lightroom.
SHORTCUT-S is also launching a dedicated keyboard for Aperture, but it's arriving a little too late in the game, as Apple has already announced the death of Aperture and will be pulling it from the App Store soon.
There will be SHORTCUT-S keyboards available for non-photo-centric programs as well, including Illustrator, InDesign, CorelDRAW, Premiere Pro, After Effects, Audition, Final Cut, Word, Excel, Outlook, and Facebook.
If you're not in need of a massive keyboard with hundreds of preset keys, there are also two Universal keyboards that you can use with any program of your choice. One has 160 keys with 113 that are fully customizable, and the second has 80 with 33 that are blank:
As with its Photoshop keyboard launch, SHORTCUT-S is turning to Kickstarter to bring these new models to market.
A contribution of $129 will preorder a Pro keyboard of your choice for when they launch in September 2015. The mini and full Universal keyboards can be preordered for $59 and $89, respectively.