Here's a Look Into the 'Photos for Mac' App That Will Replace iPhoto and Aperture
Apple announced last year that it was pulling the plug on its two main photo editing and management programs: iPhoto, which is aimed at consumers, and Aperture, which is geared toward pros. Both products would be replaced with a single app called "Photos for Mac."
Here's a look at what we can expect when the app arrives later this year.

It's a clean app with four main tabbed sections: Photos, Shared, Albums, and Projects. The interface is clean and intuitive, borrowing many visual elements from how photos are experienced through iOS. Apple is working hard to make OS X and iOS uniform and play well with each other.
Images in your iCloud Photo Library are automatically synced across your computer and mobile devices. Changes you make on one device are also automatically reflected on the others. If you don't want to use iCloud — which costs $20 for the max capacity of 1TB — you can choose to use the Photos app as a standalone tool.
The desktop app will now have Moments, Collections, and Years views for automatic organization of your photos and videos based on time and place. These views provide you with different levels of organization, from an individual photo all the way up to a high-level view of everything you've shot.
Moments groups your photos based on events by examining timestamp and location. A hangout with friends or hike in the mountains, for example.
Collections are groups of moments that are all around the same time and place. This lets you quickly locate larger chunks of your life, such as vacations or family gatherings.
The Years view shows a mosaic of all the photographs you've taken in a year. Clicking any of the thumbnails will bring up a preview of that photo.
Under the Shared tab, you'll be able to see an overview of photos you've shared and images others have shared with you. This screen will also allow you to Like and Comment on photos.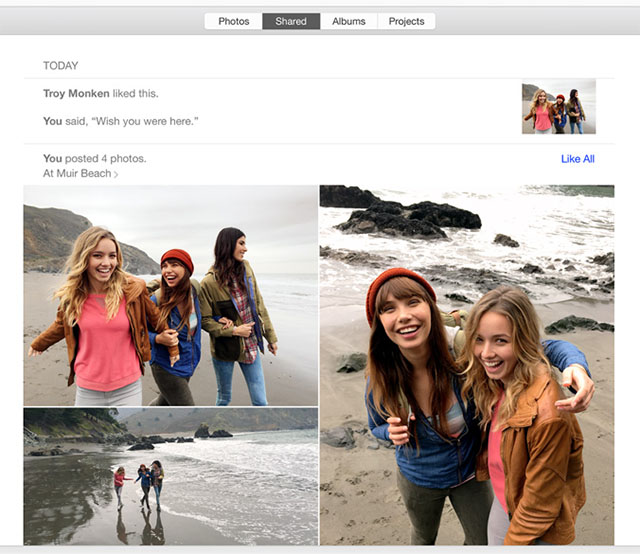 The Albums tab shows the different albums you've created, along with some automatic ones that group your files into things like Favorites, Videos, and Panoramas.
Projects are things like books, cards, calendars, prints, and slideshows. There are new tools that make creating these products a breeze. Once you start one of these projects with your photos, you can find and manage them through the Projects tab.
In addition to sleek methods of browsing and viewing photos, the software is filled with powerful editing tools that help take your images to the next level.
If you don't want to spend too much time on a photo, an Enhance feature lets you make auto-adjustments with one click. Need to improve the composition of a photo? A new Auto Crop feature can try to help by correcting your horizon line and attempting to create a crop that satisfies the Rule of Thirds.
There are also a number of tools that allow you to adjust things like lighting, color, definition, noise, vignetting, levels, and white balance.
Want photo filters? The app has those too. They include: Mono, Tonal, Noir, Fade, Chrome, Process, Transfer, and Instant. Here's a look at a few of them:
Unfortunately for more serious photographers, this app appears to offer a middle ground between iPhoto and Aperture instead of the best of both worlds. While there is an adjustment brush using the retouching tool, it only allows you to change its size and not its intensity. There's also no way to assign star ratings to photos — the closest thing is the ability to "favorite" your best shots.
The lack of some of Aperture's more powerful tools may be a turn off to photographers who need a program for more serious editing (but there are plenty of options out there for that).
For ordinary consumers though, Photos for Mac may be a fantastic new option for organizing and touching up their everyday snapshots. It's free, after all, and will come bundled with Apple's operating system.
Apple will be officially launching Photos for Mac through a free Yosemite update sometime this spring.
---
Update: Here's a nice hands-on look at Photos for Mac by The Verge: