Renowned Belgian Painter Convicted of Plagiarism After Basing His Portrait on a Photo
Renowned Belgian artist Luc Tuymans has been found guilty in a plagiarism case after basing one of his paintings on a photo by photojournalist Katrijn Van Giel. Tuymans has been ordered to cease exhibiting and reproducing his painting, and will be fined €500,000 (~$580,000) if he does not comply.

Here's a crop of the original photograph of Belgian politician Jean-Marie Dedecker, captured by Van Giel in 2010:
The following year, Tuymans released "A Belgian Politician" (2011)" that was based on that crop:
Flanders Today reports that Tuyman admitted to using the photo as "inspiration," but argued that his usage should be considered parody. Belgian copyright law allows for copyrighted works to be transformed for the purpose of parody, he says.
His lawyer Michael De Vroey argues that it's different enough to be considered a new work:
Humour and parody are not restricted to slapstick. Luc Tuymans wanted to create a strong image to deliver a critique of the move to the right wing in Belgian society. His work is therefore more than just a painted version of a photo. The format and colour contrasts are different, so that no confusion could be possible."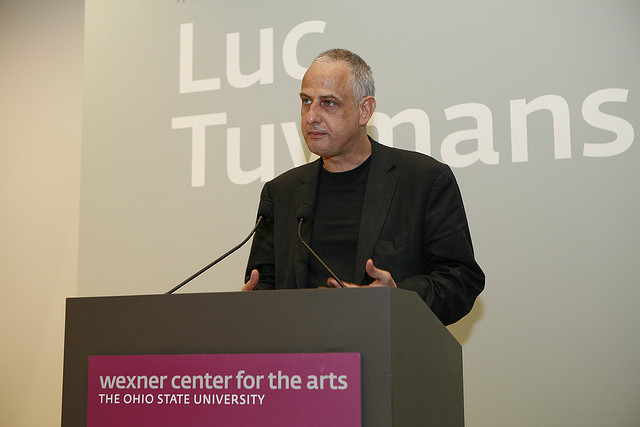 Van Giel's lawyer Dieter Delarue responded by stating that the work lacks a necessary component of parodies: humor. The Art Newspaper quotes him as saying,
We are happy that the court was not mislead by Tuymans' argument that his work is a parody. The court followed our argument that the work of Tuymans is not a humorous work, which is the most important requirement for a work to qualify as a parody.
The civil court in Antwerp has not yet ruled on whether Tuymans owes Van Giel damages for the plagiarism. Tuymans tells French newspaper Le Soir that he plans to appeal the ruling.
This case is reminiscent of when artist Shepard Fairey used an AP photo of President Obama as the basis for his HOPE poster. That case was settled before a verdict was made on copyright infringement.
---
Image credits: Photograph by Katrijn Van Giel and painting by Luc Tuymans