Novelty Clocks That Look Like Camera Gear
Want to keep time with a clock inspired by camera gear? Here's a roundup of timepieces based on cameras, lenses, and rolls of film. (Note: The clocks on this list may or may not still be available for purchase.)

First, let's start with some that are inspired by vintage equipment. Here's one that looks like an old fashion tin type camera:
This one also features a vintage design, a heavy metal body, and battery-powered operation:
Vintage box cameras are also represented:
…as are vintage "flash cameras":
There's one that features a swinging film roll as a pendulum:
This one by the Etsy store decoylab is just wooden and camera shaped:
There are different film roll clocks out there. Digital ones…
…and analog ones as well:
Press the shutter button of this alarm clock camera to snooze in the morning:
The 'Lucky' clock is designed to look like a Nikon DSLR:
There are Canon lens clocks that you can actually mount to a real camera:
…and promo ones that come as a complete camera kit:
There's a miniature desk clock that has a zoom ring that turns:
This multi function Canon lens clock can tell you the date and project stars onto your room's ceiling:
One of the latest products is this official Nikon lens clock that wakes you up with the sound of a shutter: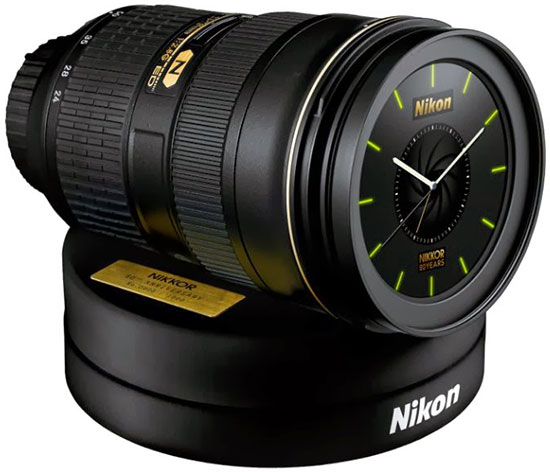 ---
So there you have it, a roundup of clocks designed with photography enthusiasts in mind. If you know of any that belong on this list, feel free to let us know in the comments below and we'll take a look!