Fan Gets Karate Kicked by Guitarist While Snapping an On-Stage Selfie
Here's a strange incident that's causing a stir online and in music communities: at a recent concert by the metal band Every Time I Die, a fan named Micah Barnes decided to climb onto the stage to try and snag a selfie with the lead singer. Guitarist Jordan Buckley would have none of it, and decided to put an end to the photo shoot with a swift kick that sent the smartphone flying into the air.

Here's an animated GIF created from the video: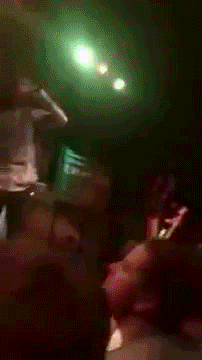 Indie rock band PMtoday took to Facebook to criticize Buckley for his actions and inviting their own fans onto the stage for selfies:
Mistreating your fans and abusing whatever power you think you have because people like your band is not "cool". We challenge everyone at our next show to get onstage and take as many selfies as your phone can handle.
Buckley responded to the criticism through his Twitter account:
Stage selfies = look at me look at me I didn't get enough attention as a kid and can't handle 5 people here getting more attention than me

— Jordan Buckley (@JordanETID) December 6, 2014
Barnes did his best to defend the band from the criticism he helped cause and apologized to the band through their Facebook account:
It turns out his phone emerged unscathed and he was able to snap the selfie he wanted before the kick occurred: