Snapselect: A Simple Mac App That Wants to Make Sorting and Selecting Photos Easier
Launched today, Snapselect is a new Mac app by Macphun that's designed to help picture takers cut down on clutter and save disk space. It's a photo management app that's described as "a new smart way to quickly pick your best images."

Now, if you're the type of shooter who keeps a every photo you snap, regardless of quality, then Snapselect probably isn't for you. If you're willing to throw away bad shots before they even hit your hard drive, then it's a program that might be worth looking into.
The main technology in Snapselect is the patented image recognition technology that automatically groups large numbers of photographs into similar photos and duplicate photos. This allows you to visit each group of shots to select only the best ones for sharing, good ones for saving, and bad ones for deletion.
It makes "the process of separating the wheat from the chaff […] not only easy, but fast," says Macphun CEO Paul Muzok.
The program is designed to be simple and easy to use — it includes keyboard shortcuts for this purpose — and has the ability to manage RAW files as well.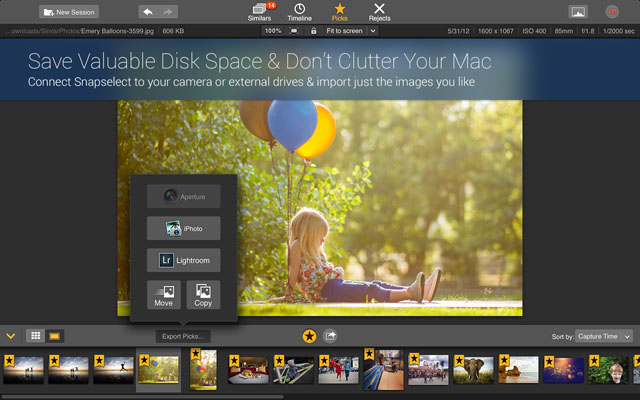 You can purchase a copy of Snapselect for $15 over in the Mac App Store.