Retro-Inspired Portraits that Look Like Something Out of a 1980s Yearbook
Looking through photographer Robbie Augspurger's portrait portfolio is like digging up a yearbook from the 1980s. Taken using a 30-year-old light kit he stumbled upon a few years back, the images look incredibly authentic as the subjects dress up and play the part to a tee.
This ongoing retro portrait series, dubbed Glamour & Headshots, started back in 2009 when Augspurger found his old light kit and asked a friend to come model for him while he figured out how to use it. His roommate Nathan (below) went above and beyond though. He showed up sporting a tweed suit.
"We goofed around, just doing things we thought were funny, since it was just a lighting test to see if I could even use the strobes for portraits," Augspurger tells us. "Once I got the images on the computer, I loved how over-lit everything was–it reminded me of Olan Mills style portraiture from when I was a kid. I started messing with the colors to try and make the portraits look like they'd been on the dashboard of my dad's truck since 1984."
To that end, the final portraits — which are actually taken with a Canon 5D — are all processed in Lightroom to look like they've got about 20 years of sun damage under their belt.
That in combination with proper props, vacant stares, and cliché photo techniques make for some pretty funny, and impressively authentic looking, final results: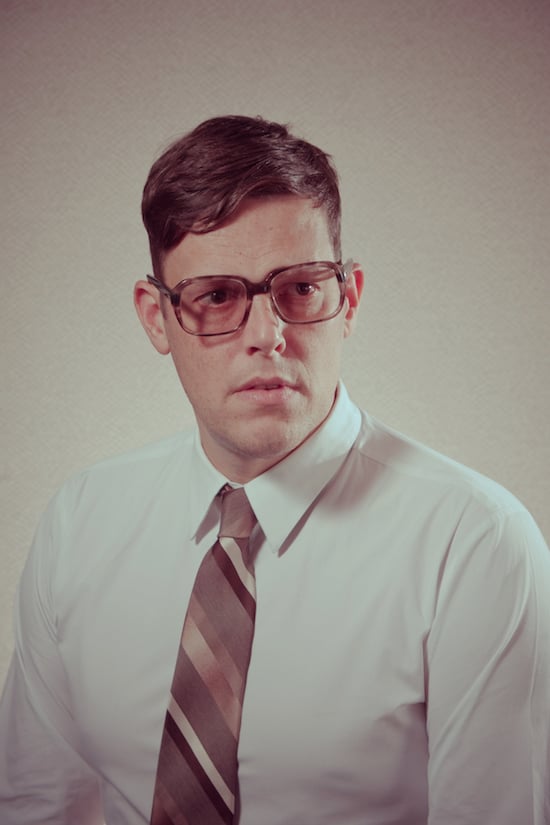 To see more of Aguspurger's work — including a whole lot more glamorous headshots like the ones above — head over to his website or give him a follow on Twitter, Instagram or Facebook.
(via It's Nice That)
---
Image credits: Photographs by Robbie Augspurger and used with permission