Video: Photojournalists Hit by Rubber Bullets Fired by Israeli Border Police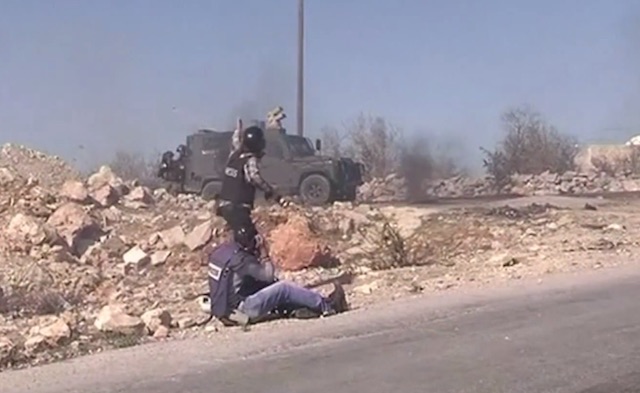 During protests this past Sunday in the Israeli town of Silwad, two photojournalists, including one working for The Associated Press, were struck with rubber bullets. They were reportedly fired by an Israeli border officer who stepped out of an armored jeep, aimed at the press, and fired shots.
According to the AP report, Majdi Mohammed, the AP photographer hit in the incident, was alongside a handful of other photographers near the protests in the West Bank town of Silwad when the incident took place. Mohammed told AP that they were not ordered to leave the area, nor was the area closed off.
And yet, as you can see from this video of the incident by Russia Today (RT News), the Israeli border police very clearly aimed and fired at them:
Recalling the incident, Mohammed told the AP:
The impact was so strong that it made me fall to the ground […] The policeman aimed straight at us […] even though we were clearly a group of media people and there were no protesters at all around us.
The resulting impact from the bullets left bruises and numbness, but thanks to protective vests, all of the journalists were able to walk away from the scene largely unharmed.
Swiss freelance photographer Lazar Simeonov was the other photojournalist involved. He too was hit by rubber-coated bullets, which came from a canister fired by officers. One of his fingers was injured in the incident and his camera was damaged, although he didn't say to what extent.
"After the incident I also tried to talk to the soldiers and asked them why they shot at us," Simeonov told AP, "but they didn't want to hear anything and just smiled and told me to go away."
In a statement, senior managing editor for international news at the AP, John Daniszewski, said the incident involved, "reckless disregard for the safety of journalists who were doing their job in a lawful way."