CNN Severs Ties to Photographer With Alleged Links to Hamas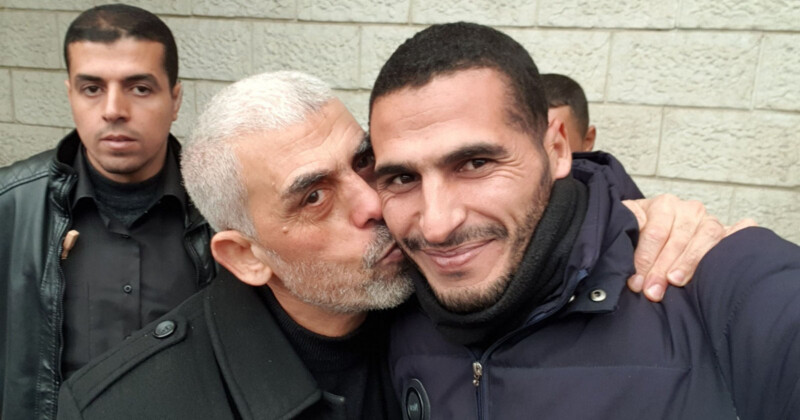 CNN says that it has severed ties with a photographer who was allegedly embedded with Hamas during the October 7 attack on Israel.
Hassan Eslaiah has contributed photos of the conflict to AP, Reuters, CNN, and The New York Times but after an investigative report by the website Honest Reporting turned up a photo of Eslaiah posing with Hamas leader Yahya Sinwar, CNN says it will no longer work with Eslaiah while AP and Reuters have both moved to distance themselves from him.
Eslaiah is not the only photojournalist accused of having ties with Hamas; a group that the United States deems to be a terrorist organization. Accusations have also been leveled against photojournalists Yousef Masoud, Ali Mahmud, and Hatem Ali.
The report claims that these photographers knew about the October 7 attack on Israel in advance, enabling them to capture photos of Israeli civilians being kidnapped by Hamas and Palestinians entering Israel from the Gaza Strip.
After the article and a photo of Eslaiah being kissed on the cheek by the Hamas leader was published, CNN made a statement to Ynet News declaring the network would no longer work with him.
"We are aware of the article and photo concerning Hassan Eslaiah, a freelance photojournalist who has worked with a number of international and Israeli outlets. While we have not at this time found reason to doubt the journalistic accuracy of the work he has done for us, we have decided to suspend all ties with him," CNN wrote.
An Associated Press spokesperson stressed that the news wire had "no knowledge of the October 7 attacks before they happened" and that they use freelancers from around the world, including in Gaza.
"Hassan Eslaiah has been an occasional freelancer for AP and other news organizations," the AP says in a statement to The Washington Times.
"The role of The Associated Press is to gather information on breaking news events around the world wherever they happen, even when those events are horrific and cause mass casualties."
Reuters meanwhile have put out a statement about the allegations.
"Reuters categorically denies that it had prior knowledge of the attack or that we embedded journalists with Hamas on Oct 7," it writes.
"Reuters acquired photographs from two Gaza-based freelance photographers who were at the border on the morning of Oct. 7, with whom it did not have a prior relationship. The photographs published by Reuters were taken two hours after Hamas fired rockets across southern Israel and more than 45 minutes after Israel said gunmen had crossed the border.
"Reuters staff journalists were not on the ground at the locations referred to in the Honest Reporting article."
The New York Times is yet to comment.
Honest Reporting is an Israeli website founded by a veteran journalist by the name of Gil Hoffman.
"When international news agencies decide to pay for material that has been captured under such problematic circumstances, their standards may be questioned and their audience deserves to know about it," the report writes.
"And if their people on the ground actively or passively collaborated with Hamas to get the shots, they should be called out to redefine the border between journalism and barbarism."