This Adams Retouching Machine Helped Old School 'Photoshoppers' Touch Up Negatives by Hand
Last week we shared an example of beauty retouching that was done by hand in the early 1900s. If you're wondering how this type of retouching was done, check out the contraption above.
It's called the Adams Retouching Machine, and was created to aid negative retouchers in doing manual edits more quickly and cleanly.

While this machine wasn't used for the Joan Crawford photo — the Adams machine was patented in 1947 and the Crawford photo was retouched in the 1930s — the Adams machine was used extensively by retouchers a decade or two later.
Michael K. Lyman of Magnum Arts obtained and photographed the device above and writes that the machine was sold for $295 in the mid 1900s, which would be the equivalent of about $2,500 in today's money.
The machine, which holds negatives measuring up to 8×10 inches, works by vibrating the negative while the retoucher works on it with a dye brush or retouching pencil. The tiny movements help smooth out the strokes, allowing for clean and (hopefully) undetectable modifications to the negative.
This type of work required a steady hand, a sharp eye, and a great deal of time and patience. Edits on single images could take many hours to complete (the Crawford photo required six hours without the help of this machine).
Here are some more photos of the Adams machine by photographer John Barnard, who sold one unit through his Etsy stop: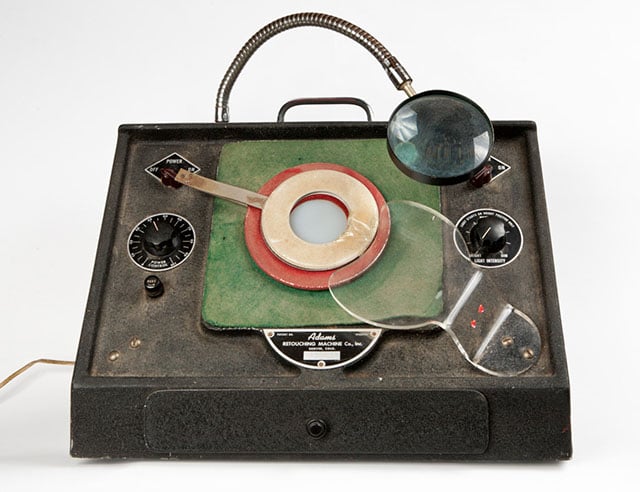 If you'd like to learn a little more about different techniques retouchers used to physically alter negatives, here's a short summary by photographer Dan Burkholder.
---
Image credits: Photographs by Michael K. Lyman and John Barnard and used with permission