Jeremy Cowart: My First iPhone-Only Commercial Portrait Shoot
This week, I had the chance to do my first-ever real photoshoot with an iPhone. Granted, I've shot tens of thousands of photos with my iPhone over the years and did a whole project in Haiti with my iPhone 4S… but I've never done a commercial portrait photoshoot, using an iPhone only.
So Monday, I got to shoot my friends JOHNNYSWIM. If you're not familiar with their music, I'd recommend going to check them out right now on iTunes. (Their songs "Diamonds" and "Live While We're Young" will change your life.)
I've shot their last two album covers below with DSLRs. But we've never done an iPhone shoot until now.
Below is a full behind-the-scenes look at our shoot with the iPhone 6 Plus and all video footage was shot with the iPhone 6.
If you read nothing else, read this: The biggest thing you need to know about is exposure control. This is a massive game-changer, at least for me. I'm super picky about light and light control and I can now finally control it right on the iPhone camera screen. It doesn't matter if you're a pro or just an everyday iPhone user. You need to know about this.
First of all, you can press and hold down on your camera screen to lock in the focus. The "AE/AF Lock" rectangle will appear on your screen. But now you get a 2nd slider for exposure control. Just press the little sunlight icon and raise it or lower it to brighten or darken your image. I typically like darker exposures so this manual control is a huge upgrade for me.
Another subtle upgrade I love is "Favorites". I shoot an insane amount of images with my iPhone and sometimes it can be hard to go back and find my favorite images that I want to specifically edit. So now you can simply select the Heart icon at the bottom of the screen and it drops those images automatically into your new "Favorites" album. Perfect. I've been needing that for a long time.
Lastly, I love the new editing tools in the native "Photos" app. Now I don't have to depend on other apps to do all my basic editing. One of the main things I'm particular about is alignment. I always want my images perfectly straight and I can now quickly do that in the Photos app.
Here's a look at the Color Saturation controls. Once again, it's nice to have quick access to this without having to go to other apps.
Lastly, the filters aren't new but I use them frequently for everyday family shots. My favorite is the "Transfer" filter.
And finally, here's a look at the shoot! I haven't had much time to edit everything but below are a few quick favorites from our time together.
Super impressed with the focus on the hand in this image:
Crazy sharp focus in dark, lowlight? Impressive.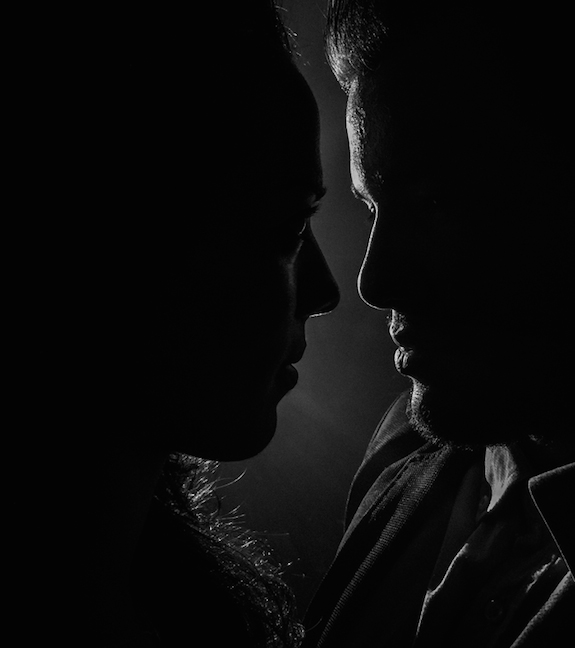 I don't do videos for a living, but I still wanted to try a handheld slow-mo shot and test out the image stabilization…
I dig how the iPhone sensor handled the projection hitting Abner's face in this one:
For this image, I walked with the band and had the camera in burst mode. Burst mode is crazy convenient. It shoots 10 frames a second and you can go back and choose your favorite or just keep all of them.
This is extremely convenient in all kinds of scenarios… sports, weddings, kids, etc. But I love how in this image, Abner is blurred but Amanda is in focus. That's actually exactly what I was going for… something that felt more photojournalistic, like we were walking the streets of NY. I didn't have to dial in any shutter speeds or anything. The iPhone just did this automatically. Too cool.
(Grain added in post)
Flare is an important factor for me. Many camera sensors don't handle it so well. But I'm really happy with how the flare came out in this image. I love seeing the individual beams of light over the shadows of their heads.
(Grain added in post)
This was shot through a ring light. I told them to act like my ring light was the bathroom mirror. They nailed it haha.
(Grain added in post)
This one was shot with the iPhone app "Slow Shutter". The goal was was to mimic what a 1/10th would do on a DSLR. I wanted that slight blur, grainy image and I think it worked.
(Grain added in post)
I often play with laser pens by shining them into the lens of various cameras. We tried it with the image below. I love how the light from the laser breaks up and almost shatters once it hits the lens. It's unpredictable and you can never get the same results twice.
Experiment at your own risk though. I've heard that lasers can sometimes ruin the sensors in cameras. It's never happened to me but there's plenty of proof that it can happen.
(Grain added in post)
(Grain added in post)
---
About the author: Jeremy Cowart is a Celebrity Photographer, Entrepreneur and a Humanitarian. He founded a global photography movement called Help-Portrait and launched an iPhone App/Social Network called OKDOTHIS. His goal in life is to use his platform, ideas and creativity to inspire and help others in need. You follow him and see more of his work on his website, Twitter, Facebook, Google+, Instagram and OKDOTHIS. This article was originally published here.