Hardcore 7-Year-Old Photographer Stands in a Muddy Torrent to Get the Shot, Doesn't Even Flinch
One of the defining characteristics of a great photographer is the willingness to do whatever it takes to get the shot… and little Bryce Smaic's got it! Not to throw down the gauntlet to any of the older photographers or anything, but we're pretty sure you just got one-upped by a 7-year-old.
While out at a cyclocross race in Colorado with his dad, photographer Dejan Smaic, Bryce asked if he could have a camera to take photos with. Dejan, good dad that he is, handed over his Nikon D7000 and 10.5mm fisheye and let the little photographer do his thing.
A little while later, he turned around and saw this:
"That afternoon, one of the irrigation ditches from the local farm was turned on and overflowed onto the course, making a muddy yet, spectacular shooting opportunity," explains Dejan. "As the minutes rolled off, I turned around and saw my son standing in 4 to 6 inches of organic ooze in his hours-old new football cleats getting splashed as each successive rider passed and not moving… even getting on his knees for that lower perspective."
Here are a few of the shots Bryce got while he was roughing it, with "a little bit of crop and exposure balance" editing courtesy of his dad: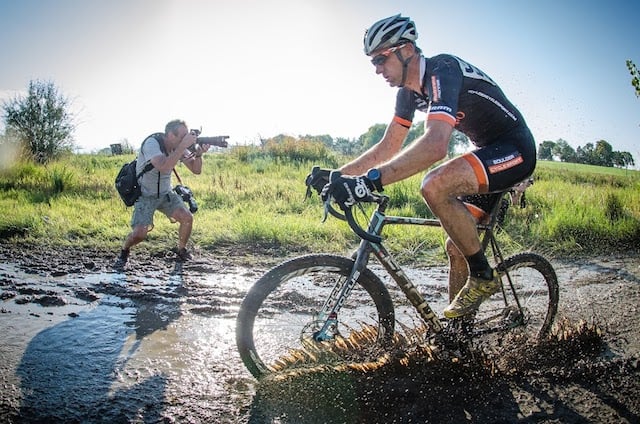 And a couple more shots of Bryce in action:
Bryce isn't entirely unfamiliar with taking pictures. "Bryce has used my DSLRs in the past and knows a little about composition, and fundamental operation of my gear," Dejan told us. But you have to give the 7-year-old credit: he didn't even flinch from what he knew was going to be the best picture opportunity.
And just for the record, he wasn't working for free either. All the photos Bryce took that day (and a few of him) have been uploaded into their own gallery on the Sportifimages website, and all the profits are going straight towards, "his Pokemon collection as well as a kid tablet."
Warms our hearts to see the next generation of photographers take shape. So drop a line of encouragement for Bryce in the comments down below, and if you have similar pictures of your own children getting down and dirty to get the shot, feel free to insert them as well!
---
Image credits: Photographs by Dejan Smaic and Bryce Smaic, used with permission